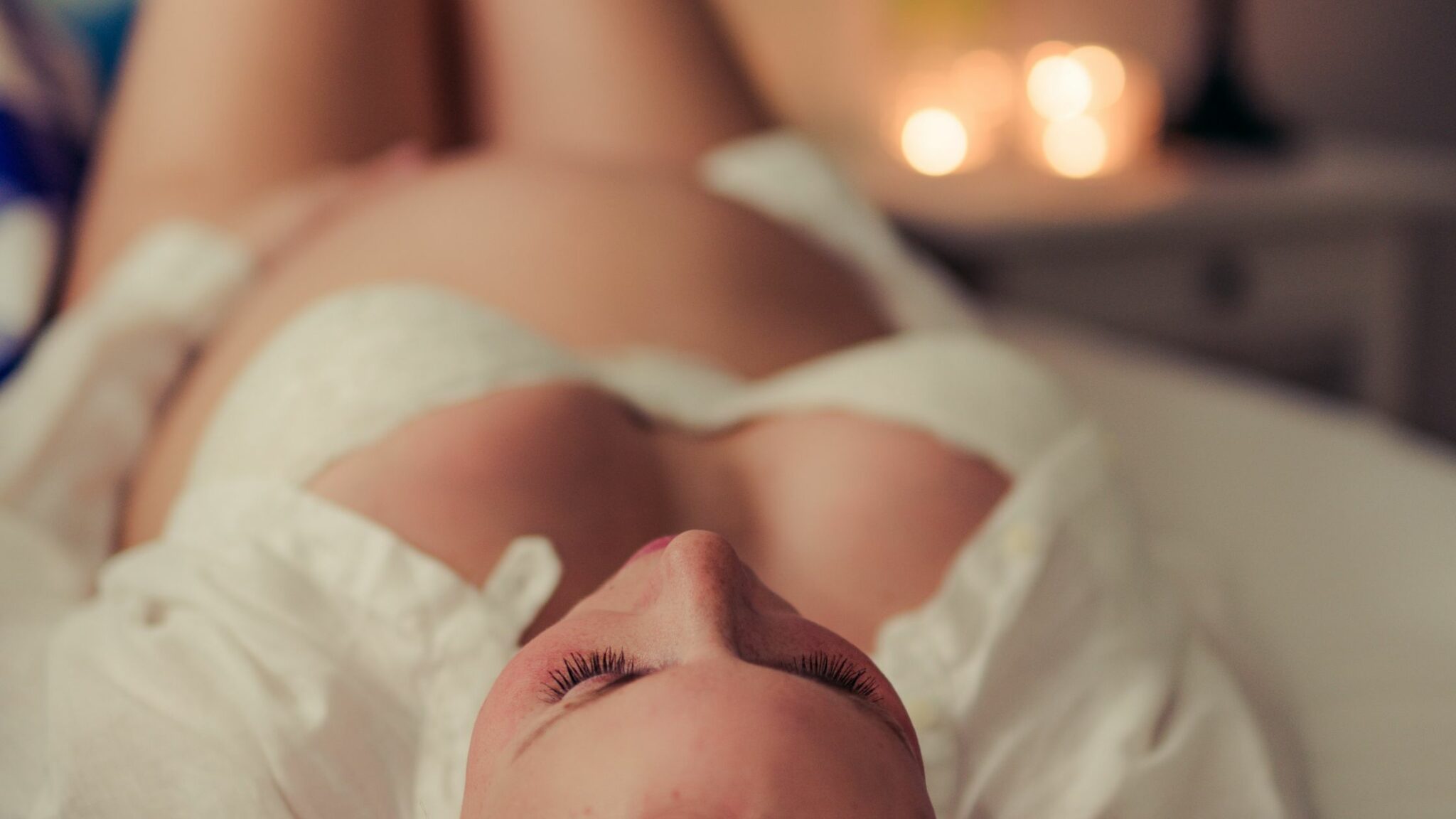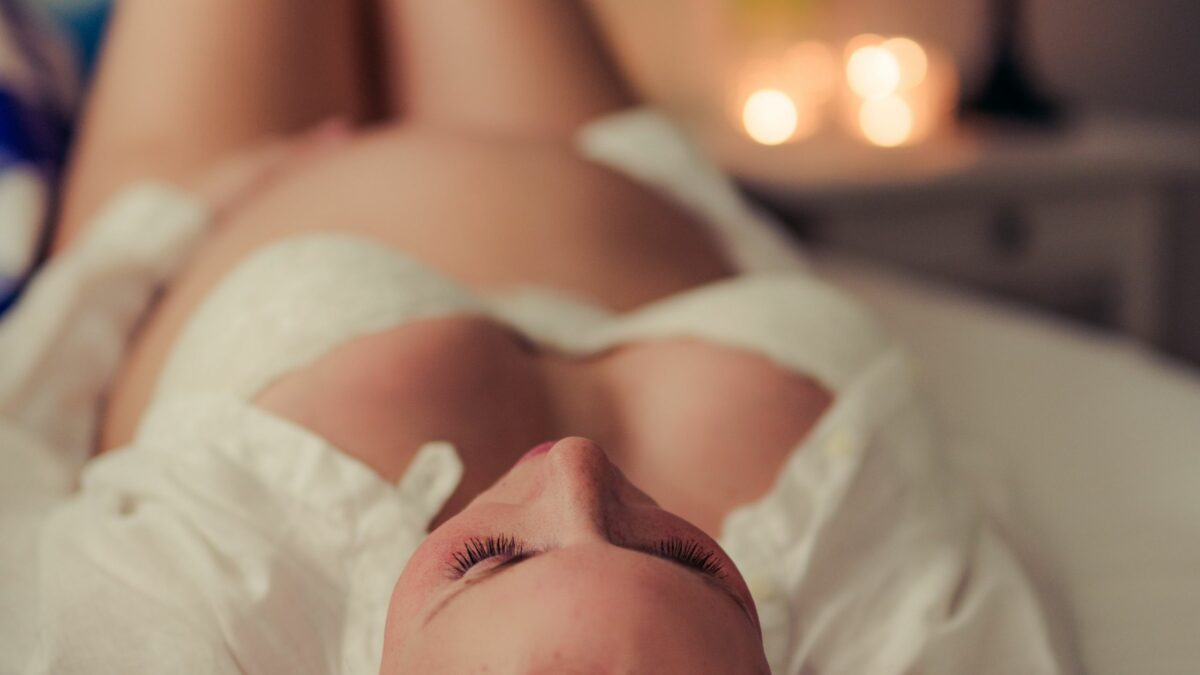 When the word "hypnosis" comes to mind, we often associate it with stage performances and peculiar antics, but there's a deeper and more powerful side to this practice, particularly when it comes to pregnancy and childbirth. This is where hypnobirthing comes in – a powerful therapeutic approach that taps into the transformative power of the subconscious during the birthing process.
On today's episode of On Health join me as I chat with Kerry Tuschhoff, the founder of Hypnobabies, a program that introduces powerful hypno-birthing techniques, reframing birth as a potentially empowering and joyous event rather than an ordeal. Throughout our conversation we'll touch on the power of language, affirmations, what to expect from the hypnobirthing process, the success of Hypnobabies and so much more. I hope today's episode provides a new lens through which you may see birth preparation and a set of techniques that bring you greater ease and confidence on your mama journey.
Kerry and I chat about:
How Hypnobabies was born and what drew Kerry to the birthing field
The importance of reframing the language we use about birth
The power of the subconscious mind and the beliefs we internalize when it comes to birth
Reframing our mindsets about the birthing process
What therapeutic hypnosis is and why it isn't something to be feared
The difference between hypnosis vs. meditation or visualization
How hypnosis can prepare you for the unexpected during birth
The importance of advocacy and having birth partners present during labor and delivery
Kerry's insight on how to make pregnancy and birth easier and more joyful
Thank you so much for taking the time to tune in to your body, yourself, and this podcast! Please share the love by sending this to someone in your life who could benefit from the kinds of things we talk about in this space.
Make sure to follow along on Instagram @dr.avivaromm to join the conversation. Follow Hypno-Babies on Instagram @hypnobabiesofficial and visit www.hypnobabies.com
---
Aviva: Kerry, welcome to the On Health Podcast. I am so excited to have you here and have this conversation today.
Kerry: Thank you so much. I really love talking about how to make pregnancy and childbirth and postpartum so much easier.
Aviva: Yeah, it's a thing in our culture that we go into it dreading it. Before we even get there, tell us about your personal story. What initially drew you to the birthing field and how was Hypnobabies born?
Kerry: Well, Hypnobabies was born out of my own two babies births basically. It started when a friend of mine when I was just freshly married had her first baby and she had it naturally in a hospital. So when I say naturally, there are no unnatural births, but what I mean is that she was unmedicated and she didn't have an iv, she didn't have pitocin, she didn't have her waters broken. And I was very fascinated because even though she told me she had used the Bradley Method of Natural Childbirth, and she had told me that it was very, very painful, but she was super happy that she did it because she didn't have the drugs, the baby didn't have the drugs in its system, and I didn't even know people did that. I thought you just went and had an epidural. I mean, that was my knowledge. So I became super fascinated and then I just went and researched everywhere I could and got bitten by the birth bug.
And so I became a Bradley Natural childbirth instructor and started teaching and taught for a couple of years before it was time for me to have my first baby, and then I thought I knew everything there was to know about having a baby, but then I had a baby, so her birthing was 36 hours long. She was posterior. So for your listeners, that means the baby's head is turned around so that it just kind of pressed on all the nerves going down my spine causing a lot of back labor and she was stuck. And I ended up going from the birth center that I was at across the street to the hospital to have an epidural, and I was never so happy in the world to see anyone as I was that anesthesiologist coming at me with a great big needle.
And so then after six hours of being on an epidural, she was pushed and pulled out and it was very traumatizing for me. The pain itself was the thing that traumatized me the most, that I had no idea that you couldn't just breathe through all of this. It just was not going to happen. So I did get PTSD from it four years almost to the day later, I had my son in a birth center with a midwife, and it was only seven hours, but he was also posterior, and I was screaming with the pain. During one particularly gnarly contraction, my sister was holding my hands, my husband was pressing on my back to try to quell the pain, and I looked up into my sister's face and there were tears just flowing down her face and she said, "It should never have to be this hard." And it's like a light bulb went on over my head that I realized that was so true. If you wanted to have a baby in an unmedicated way, it did not have to be this hard. There had to be something.
And so after that, even though I never had another baby, I wanted that for my students because I had also been a doula for my Bradley students, and I continued being a doula and it was hard, I mean, to go through birthing without much to help you. So I saw a show on TV, it was Dateline about hypnosis for childbirth and an obstetrician was using it with his patients and what great births they'd had. So then I was on a quest about that and became trained at a different hypnobirthing program and started teaching that. But I was also going to the births as a doula, and it was not what I was looking for.
So I continued on and took a bunch of courses in hypnotherapy and hypno-anesthesia, which if people dunno is a way that people who are allergic to medical anesthetics can use hypnosis to actually have those surgeries, but without the medical anesthetics that would put them into anaphylactic shock. So that was what I was looking for. I was looking for hypno-anesthesia and I found it in a program called Gerald Kein's Painless Childbirth Program, and he was a master hypnotist who taught hypnotherapist to work one-on-one with their patients in their office with this program when they were pregnant.
But when I was finished learning it, I asked them if I could put it into a childbirth education program, which is so important. You need to get your childbirth education at the same place you get your birth hypnosis or it just that confuses the conscious and subconscious minds. And he said, yes, absolutely. I can't wait to see what you create. And that was 22 years ago and it's been phenomenal. People are using Hypnobabies all over the world, but it came out of my need to help other women not have this pain and trauma that I had. And people are traumatized by birth for many different reasons. It doesn't have to necessarily be that the pain was too much, it is often that they fear for their lives or their babies' lives or health and Hypnobabies has actually helped people get through birthing with a better knowledge of what is going to happen, of their own choices, of how to make it easier starting right from the beginning when they are pregnant because they start listening to these subconscious messages that help them to understand how natural and normal childbirth is, that they will be able to do it, that is going to be much more comfortable. And of course we're using direct suggestions as well, and hypnosis to literally retrain the inner mind that these sensations that they're having when they're birthing, which is pushing and pulling and tightening sensations and baby movements, they're all normal and they will be there just without as much discomfort associated with them. And we're basically retraining the subconscious for that.
Aviva: We're also retraining our association, right, with sensations and words that are almost judgmental of those sensations. So we use words like contraction, which is tightening, whereas for me, coming up as a midwife 35, 40 years ago, I very early on adopted words like waves and rushes or just using the words be curious about the sensation. But we judge certain sensations as pain rather than just experiencing the sensation. That sounds like part of what you're doing to reframe neural pathways is reframing the language we use about birth. Tell me about that.
Kerry: Okay, well that is an excellent point because in Hypnobabies we do use different language. We use birthing wave or pressure wave instead of construction, we use transformation instead of transition. I'll explain that because transition is a wonderful for what happens at the end of the first stage of birthing into the second stage. However, the word transition is also associated in just about everyone's mind with somebody else's horrible birth story" "When transition hits, I lost it," or "I was fine all the way to transition and then I wanted to die," and so forth and so on. And so we're also always consciously and then subconsciously associating transition with something bad.
We have a 'guess date' instead of a due date because we want them to just have a peace with whenever their baby's timing is. Instead of that, it is due a certain time and so forth and so on.
And this is because the mind does associate certain words like the word labor with other things. So for instance, labor means work, and so we've known that since we were a child and before we ever even thought about childbirth, labor was work. And then when we got to be learning about labor, labor was scary, labor was difficult, labor was painful, labor was traumatic. And so we can't have the mind associate something that we want to look at as positive with something that was previously negatively looked at. So the connotation of the word is more important than anything, and the connotation is the emotional meaning of the word. So we want them to have an association, an emotional meaning of the word to be positive.
So the words birthing wave basically actually cause imagery of a wave, something soft and moving. Pressure wave is fine, but it's not contraction, it's just pressure like a blood pressure cuff. If you take a blood pressure cuff and let it go to its full capacity, it is a great big squeeze. And so that is actually even built into some of our hypnosis language. That is what the tightening feeling will feel like, and once we retrain the subconscious mind to that, then it is less associated with pain and more associated to the squeezing or tightening of a blood pressure cuff, that sort of thing.
Aviva: Yes, I agree. I feel like it's very important and it's something that's sort of baked into how I've done midwifery, but also how I approached my own birth. Another thing that I think is really important is our own stories that we come in with. So for me, for example, I grew up with my mom almost kind of bragging, "Oh, I went into labor with you right after I played softball in the park." And then she's like, "Hah, and I had a three hour labor and you born," but my association with birth from my entire childhood was that, oh, this is sort of a part of life. You go play softball, then you go have the baby.
What are some of the ways that you feel stories that women internalize either from their mothers, their grandmothers, their friends, movies, the culture impact, their ability to make this inner emotional subconscious and language transformation?
Kerry: I could say don't get me started.
Aviva: Oh, please get started.
Kerry: So it is important for all of us to hear other people's birth stories for them, but not necessarily when we're pregnant. Okay? There are places, there are groups, there are friends, there are relatives that we can talk to about our birth stories, and we all want to tell our birth story, and that's important. And yet when we're pregnant or even before we have gotten pregnant, but we're someday going to be pregnant, if what we have heard is a lot of difficulty, a lot of challenge, a lot of pain, a lot of trauma, then it is going to be basically embedded, not only in the conscious mind, but the subconscious mind, as what may become our story. And we don't necessarily want that if it has not been positive because the belief systems down in the subconscious mind, are basically what makes our life. It houses everything.
So if you look at the mind as sort of in layers, there's a conscious layer, there's a subconscious layer down below, and in the middle there's a critical faculty, and the critical faculty is the guardian, and it decides what actually gets all the way down into the subconscious mind. So in hypnosis, we relax the body and then we relax the mind and we make the guardian go to sleep. And then we get down to the subconscious mind. And in the subconscious mind is file folders, mental file folders, of everything that we have ever done, seen, heard, experienced, wanted. Everything that has ever happened to us is in the subconscious and it's like a five-year-old child. So once you get on down there, if you give it direct suggestions, it basically says, "Oh, okay." But many times, even though the critical faculty is still there, it kind of gets smaller whenever we're being talked to by what we consider to be an authority figure.
So that would be a doctor, a midwife, a mother, a friend, an aunt, somebody that they have a lot of connection with. And so it gets thinner and lets more down into the subconscious. Then the subconscious builds a belief system about childbirth that is based on those things. And one of the reasons why it is especially not good, I'll say, for people to watch birth videos that show painful births, these birth TV shows I'm particularly referring to right now. There are birth TV shows, but there are also birth videos on YouTube and when people watch them, then it becomes imprinted in the conscious and subconscious minds as what childbirth looks like.
And so what we really want to do is make the guardian take a nap and then put a lot of positive information into a new file. And so the new file is not making the old files go away, but they're basically dormant. So the new file says, "Hey, childbirth can be much, much easier for you. And this is how." You listen to affirmations every day so that from the outside in, you're basically counteracting people's negative birth stories and admonitions to just go get the epidural, and then you listen to hypnosis. And so from the inside out, building up and building up and building up in the subconscious, we are retraining and putting software in there, building a new file folder that is telling you how great childbirth is going to be for you on a very basic level. Things like when your water breaks, you'll feel even more confident, even more comfortable. And those things are pretty amazing when you see somebody's water break and instead of it being more difficult for them, they've actually been re-trained that this is a great thing. This is a terrific time.
Transformation, for instance, that time when our body is shifting into the pushing phase, we're in that last little bit can be the best part of birthing. This is what we retrained because we're just about to push our baby out. And so those sensations become really excellent sensations, really positive sensations.
And I want to say one more thing about other people's birth stories and the things that they say to us. So when people come up to us when we're pregnant and they start saying, "Oh, I was in labor for 72 hours, I almost died," just really trying to scare the bejesus out of you, instead of telling them to go away, you can say, could you tell me what is the most beautiful thing about your birthing that you can remember? What is the most positive, beautiful, joyful memory you have of that birth? They'll have to stop and try to remember something sweet and wonderful, and not only will that help you, but it will help them. And so this is what we teach our students is you don't have to say "Uhuh, stop talking." You can say, "Tell me something beautiful about your birthing", and then that will also bring them to a place where they can think, "Oh yeah, that was pretty good."
Aviva: I always joke and say, I feel like pregnant women have some invisible sign that it's like a dog whistle that other people can hear or see that says, "Please come up and touch my belly without me giving you permission, and please tell me your worst birth story." I think that we just have this tendency to want pregnancy and birth traditionally are so communal and there's so much vitality there that naturally people want to touch our bellies and when they see us pregnant, it's a trigger for them to be back in their own experience without considering the very significant and scary impact it can have on the pregnant person who is listening.
Kerry: Yes, the absolute worst time for those kinds of stories to come at us, is at our baby shower, and that is the time when people want to tell them the most. So…
Aviva: Oh, that happened to me. I actually had a mama blessing with my third pregnancy, and because I was a midwife, there were just 20 midwives in the room and they were doing all the beautiful things that I've done for other mothers, also massaging my feet and brushing my hair, and one midwife asked me if I had any fears. She wasn't my midwife, and I expressed one, and instead of reassuring or saying something in an offering way that helped me transmute that particular fear, she said, "Oh, that just happened to another mother I was working with who had her third baby" and I was having my third, and I was so open and vulnerable. It was a blessing ceremony for me. She's literally massaging my feet with her hands and saying this to me. When I was in labor, I remembered that fear coming into my head and her voice and her saying, "Oh, yeah, this happened to so-and-so," and I really had to breathe my way through that and work my way through that and talk to my midwife at the time and my mentor midwife and say, Hey, this came up for me. She's like, what is the chance? Really? She just really kind of walked me through letting it go, but it was such a powerful moment for me.
Another example, my best friend in medical school was having her baby and she did need to have a C-section, and I was working in the hospital at the time and I was supporting her as her labor person, but I also had privileges there. So I was the one who received her baby and brought the baby over to her. But while she's having a local anesthesia, she's behind the blue curtain, the ob gyn starts talking about an article that she was reading, and the article was about somebody having something happening to them during labor. And my friend unbeknownst to me is hearing these words thinking that, that's what's happening to her. And I was like, no, no, no, no, no. She's talking about something she read in a medical journal, and I had to say to the ob, "Hey, she thinks you're talking about her". So it's also the language our healthcare providers use and just the being aware that when we're pregnant, we are so sensitive, we are so suggestible to either the supportive messages or the hindering messages.
Kerry: You know, that's so true, and I have a whole course called Birth Language that I teach my instructor trainings, and if the medical community only knew the effect that their words had on them, I think they would all be motivated to change some of their language. For instance, what you're doing when you're saying now this is going to burn, it's going to be the ring of fire, is that person that you're talking to, even if they're not in their birthing yet, even if they're not in labor, but especially if they are, you're an authority figure, and you're basically creating that belief system in the subconscious mind for them so that when the time comes, they're more than likely to feel that. Whereas you could say, there's going to be a lot of stretching feeling and just let me know how you're feeling. Just let me know what you feel. If you can push through it, great, we'll do it little bits at a time, things like that.
Reframing even when you are talking as a doula or a childbirth educator or a doctor, nurse midwife, if you're talking to people about breech babies or posterior babies or baby's getting into different position, instead of saying the word, if your baby was to be breech, if your baby was turned around, if your baby was asynclitic, things like that, you can say, "there are some women who have breech babies, there are some women who have a posterior, and this is what we do when that happens", and then they don't take it on themselves, then it doesn't make it to that subconscious level where they actually absorb it as their own truth.
And so I wish I could teach that course to every medical professional out there because there are so many things to know about how to talk to patients. There's a wonderful doctor at Brigham and Women's Hospital in Boston called Dr. William Cayman. He did a study on the words that doctors used and then how that affected patients to tell them, now this is going to sting instead of, it's going to be an intense sensation.
Aviva: I have to say, even the word patient for me is one that unless there's some reason that medically somebody is a patient, when a person is pregnant or birthing, I don't use the word patient because it just immediately implies sickness. I also encourage pregnant people to wear their day clothes, their favorite robe, their favorite beautiful thing if they're birthing in the hospital or birthing center, because the minute you put on that, Johnny it's demoralizing, it's infantilizing, it changes the whole experience of being an empowered adult person.
Kerry: We do share that with our students as well, that they have that choice. It's one of their choices to bring a big old t-shirt. Some people go out and they buy an outfit to wear, it's their special maternity outfit. Absolutely, go for it. And then you know, will feel much more autonomous about the situation and your choices and making them, instead of feeling like a patient, which is normally, like you say, a sick person,
Aviva: For listeners whose only image of hypnosis is like someone doing a party trick or on a stage in Vegas that we've all seen in a movie where somebody makes the hypnotized person's squawk like a chicken, in fact, it's a very profound medical tool.
Tell us about what therapeutic hypnosis is and the various medical context that it can be used, and also let's talk about control because I think that's people's ultimate thought with hypnosis is that you lose control and you become suggestible to quacking like a duck or whatever somebody tells you to do,
Kerry: Right…I love talking about this because well, stage hypnosis is fun and that is what people mostly picture in their minds, it is entertainment. So the stage hypnosis, the hypnotist is very skilled at finding people in the audience who want to play along and he will find them and he will bring them up, but they are acting and they are playing and having fun and being silly, and that is completely different. That is not therapeutic hypnosis.
Therapeutic hypnosis is when we are using the ability to reach the subconscious mind to make a positive change, and that is normally done with a hypnotherapist and what we do is we relax the body first because people can enter a state of hypnosis if they're tense, but it's not likely. So we relax the body first and then we relax the mind by counting backwards and so forth.
But what I want people to know before we talk more about that is that all hypnosis is self hypnosis. So we decide to enter hypnosis, we decide to stay in hypnosis, we decide to accept the suggestions, which are basically mental directives that we're hearing, and we decide to emerge from hypnosis all on our own. Nobody ever makes you do anything. You're completely conscious, you're completely aware and able to come back out and emerge anytime you would like to. And we are in states of hypnosis all the time, all day long. And when I say that, it surprises people because anytime that we're watching a screen of any kind, so whether it's a phone, a tablet, a laptop, the TV or a huge movie screen, we enter a state of hypnosis, we're following the sight and the sounds back and forth. And it's the same thing with reading.
We enter a hypnotic state, usually it's an alpha state, so a lighter hypnotic state. We're in a hypnotic state when we're waking up and going to sleep. Anytime we're daydreaming, if we're just sitting and thinking about Hawaii, we enter a state of hypnosis. If we're in an elevator for a long period of time and those numbers are just going by, we will actually enter an alpha state of hypnosis. And of course, everyone knows this one: When you're driving and you're focusing on something that you're going to do when you get there or anything else, in a concentrated way, and all of a sudden you're at a stoplight or you're home and you kind of look around and you go, I just do not even remember the last five minutes. You were in a state of hypnosis. Your subconscious drove you home, and that's okay. So we're in states of hypnosis many, many times a day, and that makes it a very normal thing.
What we're doing with therapeutic hypnosis is taking it down a notch from the alpha state down to a theta state where the brainwaves slow way down, and that allows the subconscious to accept the mental directives, the suggestions that we're giving it. So nobody's making us do anything. We're listening to positive suggestions in therapeutic hypnosis, if you would work with a hypnotherapist and you want to get rid of a phobia assay or weight loss is your goal or stop smoking, they will ask you questions when you're in hypnosis and you are perfectly capable of answering them, even though your brainwaves have slowed down and down and down, and in that way, they also are able to find out from your subconscious, what are the best ways for you to move forward then to eliminate that phobia, to lose weight? Are you holding onto anything? So you can find those things out in a hypnotic session with a hypnotherapist with hypnosis for childbirth.
We have 21 audio tracks and Hypnobabies, and they start out very light hypnosis and basically doing what could be called reframing or deprogramming from the belief system that childbirth is difficult and hard and painful and scary. So it starts out that way, and then it gets into direct suggestion for creating hypno anesthesia in the body. And we build on that every week and every week and every week. And so it would be mentally the equivalent of if you wanted to build up a muscle in your arm, and so you go home and you hold onto maybe a two pound weight and you do this every day for 10 times, three times a day, and the following week you get a 15 pound weight and you do the same thing and the next week it's a 20 pound weight, and then you build up that muscle.
And so that's what we're doing mentally with hypnosis or building and building and building. So there are people out there who think, well, can I just listen to one audio track when I'm having my baby and I'll be fine? But the subconscious mind doesn't work that way. We have to literally retrain and retrain and retrain it and keep reinforcing it over and over and over again until the baby is there. So for instance, hypno Babies is a six week program, and by the time you're finished with the six week program, you've been through all of the tracks and they're in there. So those suggestions are in there. Those post hypnotic suggestions are in there. And then you listen to a rotation of some of those tracks until the baby's born. So some people have four weeks until the baby comes, and every single day they'll listen to one main track that keeps those suggestions very deeply embedded in the subconscious over and over again for a really great birthing. And then when they're in their birthing, then those techniques, those cues, those post hypnotic suggestions are all in there and they use them. They're called cues, and they're able to build hypno anesthesia within their body in the places that they want. It could be their back, it could be their cervix, it could be their lower abdomen, it could be down their thighs. They can direct the hypno any place that they would like it go. So all of that is real therapeutic hypnosis.
Aviva: What do you do with folks who have a very specific fear? So for example, I had a woman I worked with many, many years ago who had previously had a pregnancy termination, and she was Catholic, raised very religiously, there were a lot of religious beliefs around that she deserved to be punished. And when she was pregnant, she was terrified that the punishment was going to somehow be something wrong with this particular baby. And what I did as a midwife, I actually created just a reframing visualization audio – tape deck in those days – and this was something I've done many times in the years since this was 25, 30 years ago, that she could listen to and transform that fear of punishment around. But in Hypnobabies – hypnobirthing – how would that work within the system that you have?
Kerry: Well, the first thing is that we have a fear clearing track in Hypnobabies, so our students can listen to it at any time, and it guides them into hypnosis and then allows them to recognize the fears that they have and then decide if that fear serves them or their baby well, and then let it go if they choose to let it go. And they can do that as many times as they like with as many fears as they would like.
Now, if it is a fear that is more deep seated, then we suggest that people get to a hypnotherapist that is qualified, that knows more about women's reproductive problems, issues, emotional issues, things like that. And then they can help you go in and look at where that came from, see if we can reframe it and build a bridge to a positive outcome for this pregnancy. And it's very important, I say hypnotherapy instead of cognitive therapy, because even though that can be helpful, we have a limited amount of time here to work with for the rest of this pregnancy. And so hypnotherapy, since it is deep and it does get into the subconscious mind, is a much faster way to deal with these things.
Aviva: So we talked about alpha waves and theta waves, and we talked about creating this altered consciousness or deeper consciousness. And I think the example of driving in a car or being in the elevator, those are so relatable.
How does hypnosis differ from, or is it similar to meditation or visualization or guided imagery?
Kerry: Meditation, imagery, visualization – we all enter an alpha state, usually. And meditation is with people who are not really familiar where you become quiet and then you release distracting thoughts. And one of the ways that you can do that and just be quiet with yourself is to focus on your breathing. And so when you focus on your breathing in and out, not trying to force anything unless you would like to do some deep breathing at the beginning, then you are allowed to. You can only think one thought at a time. So you're thinking of the inhale and you're thinking of the exhale and you're able to quiet and calm yourself. That person will enter a state of hypnosis in the alpha state. And so it would be a light hypnotic state, and then they could do whatever they do. They could say a mantra. Some people meditate about their future, some people meditate about a goal that they have. So it's all in a very light state.
The same with guided imagery where we're usually generally just guided into a state of relaxation and then some very beautiful imagery passes by our conscious mind and it will get it down into the subconscious and in Alpha State, and that's nice.
Visualization, which by the way is something that we do in Hypnobabies or we teach our students to do, and it's very important, you can also get into a very deep alpha state, but deeper. Because usually in visualization, you do want to start out with some deep abdominal breaths that start to relax your body and relax your muscles, and then you are visualizing whatever it is you want to visualize.
In anyone who's pregnant would you well to visualize the kind of birthing that they would like to have. And we know from athletes and speakers, even kids that are preparing for a presentation at school that if we mentally practice that over and over again beforehand many, many times, that it becomes so familiar to the conscious and subconscious minds that when we get there, it's all already in place, mentally, physically, we see it, we've done it. We're going to, in the athlete's case, they're going to shoot that basket because they've shot it a thousand times in their mind.
Aviva: I remember actually hearing, I think it was LeBron James speak, and someone asked him, how do you throw those three pointers? And he said, well, first I see the ball going from my hand to the hoop, and then I shoot.
Kerry: Yeah, exactly. And so that's what we want our students to do because when they do actually get to the end and have a baby of their birth visualization, it's like they've created a blueprint for their subconscious mind to follow, and it's much more likely to do so. And it's amazing how many people will say, I imagined that I was going to give birth when the sun was rising, and then they do. But that is not to say that everybody is going to get that exact thing, but it just does give a nice blueprint.
Aviva: Well, let's speak about that. When you have a mama or birthing person who has a prenatal issue or a birth issue that is an anticipated reason for birth interventions, they maybe know that they're going to have to have an induction for some medical reason, or they know that they're going to have a cesarean for some reason. How do you talk about this prenatally without reinforcing the cultural expectation that those things are going to happen or the individual fear that those might happen?
Kerry: What's really important, I think, for pregnant people and everyone to do when they have a goal, is to focus on what you want and not on what you're fearing. Because first of all, fear can be extremely detrimental to the body processes, and that has to do with a lot of different things, including neurology and how neurons fire off and then create stress chemicals in the body and things like that.
But it's super important for the subconscious mind as well, because the subconscious mind wants to produce for you whatever you're focusing on. So what we're doing here is we're focusing on what we want, which is a much easier birthing. If the person wants a cesarean, of course, then that's what they're going to focus on. But if they don't, and that is most people, then they're going to focus on having a vaginal birth the way that they want to have a vaginal birth. That might be with an epidural, it might be with a midwife, an obstetrician a home birth, a birth center birth, whatever it is, they're giving their subconscious mind the best food on which to feed when they focus on what they want and not what they don't want.
In Hypnobabies, we do teach our students to focus on what they want, and we teach them the benefits and the risks and the alternatives of all the common choices that they have. And other people call them interventions, but basically their choices, we're not making their decision for them. If they know the benefits, risks and the alternatives of these procedures, treatments, whatever it is, then they can make the best decision for themselves. And we encourage them to research ahead of time, all of these things. What do they want? Make a birth plan, but also know that you need to be flexible because all choices are theirs. This is also something that people don't realize as a patient, that they think that they don't have any choices. They think that they go in and they just do whatever they're told.
But the truth is, in pregnancy, in birthing postpartum and with their baby's care, they are always in charge of all the decisions. And their medical care team is there to help suggest things and guide them if things go wrong. And so that's where the flexibility definitely comes in, comes when you get there, the decisions that you want to make, they may change right in the moment, and you need to roll with that. And that is one of the reasons why in Hypnobabies, we have a lot of hypnosis for the pregnancy and the birthing itself, but we also have what's called a change of plans track. And that means that they can still use hypnosis to stay calm, to stay relaxed, to flow with whatever is happening. If say they didn't want an iv, but one is required, they roll with that. It could be that their water breaks early or late, or it could be that they end up needing a cesarean section and they can still use hypnosis to stay calm and relaxed, and the veins stay nice and plump, the blood pressure stays down and we just roll with whatever's happening.
And there are people who are definitely going to have to have an induction, for instance. In fact, because 95% of our students give birth in a hospital, which comes a surprise to some people, but they do. Then many of them are being induced. And so we let them know that you can still use your hypnosis, that you can still stay calm, that you can still do very, very well, and it works. And I think the most important thing, whether you know that there's going to be something wrong with your baby, you have to be induced or you have to have a c-section, is to know that your mind and your emotions can help you through it if you allow them to. The minute that we allow ourselves to panic, everything goes out the window. And that's where, for instance, our birth partners come in. If the person has a birth partner, we do teach them what their role is in helping the pregnant person during the pregnancy, during the birthing and postpartum to really get through it in a much easier way with a lot better support, even to the point of being that person to stand there in the nurse's face and say, stop.
She's having a birthing wave. She needs to focus. Can you step back and talk to her when it's over? Sometimes that needs to happen, but we do have many, many people who have inductions and we have a cesarean preparation set. And that is a hypnosis and affirmation set for people who know that they're going to have a cesarean and they want to be able to prepare for it in an emotional way, in a mental way so that they can get there and be absolutely confident that the best plans have been made, that they're with the best team, and their body reacts to the surgery better, and they recover better because of this. And we know this from people like Bill Cayman, when you set things up better ahead of time, the outcome is better and the body does heal itself.
Aviva: It sounds like we're talking about tapping into a very deep well of human potential that lies below the surface that we're accessing most of the time. That can be an incredible ally. I mean, it's not other to us. It is us. So it's being our own ally and that we're finding solutions that it's almost like we're being reminded of what our human potential actually is. I've had mamas where they were in labor, they were in their birthing time, and for whatever reason, got stuck in the moment, got stuck in pain. And one of the techniques I've used as a midwife and physician is to say, if you were an animal right now, what position would you get in? What would you do? And I've had mamas get on the bed and their hands and knees and move like a cat, and it's just amazing what can happen when we step out of, as you say, that panic, the fear, the emotional reaction, and go deeper into that well of what's possible. And even tuning into that mammalian knowing that we have so deep in our bones and our cells.
For pregnant people who aren't at the moment committed to Hypnobabies as a program, what are some things they can do to make their pregnancy easier, smoother, and actively prepare for a more joyful birthing?
Kerry: Well, what I suggest to everyone is at least meditate every single day. Start your day out meditating on having an excellent pregnancy, your baby growing well, how much you'd love being pregnant, even if that's just a little bit of a stretch for some people. Meditate on what you want for the rest of your pregnancy and what you would like for your birthing, and just get into that calm state and relax your mind and just let it bring you imagery as you focus on what you want. And I think it's amazing how much calmer that pregnant person is going to be for the rest of their pregnancy when they do this every single morning. Another thing is to visualize your birth. So then in a much more relaxed state, say, laying down or with your head back on the couch or cushy chair, do some deep breathing, and then take yourself from the beginning how you would like your birthing to start out.
Go all the way through how you would like it, who's going to be with you, what it's going to look like, what it's going to feel like, what it's even going to smell like wherever it is that you are. Do you have favorite scents? Are you going to put on some essential oils? Things like that. And then take yourself all the way through to birthing your baby in the way that you want to and holding your baby and feeling that joy. And then just let yourself sit in that for a while and do that at least two or three times a week.
I would say also people need to really take responsibility. Lemme put it that way, for their pregnancy and birthing decisions. So as you are pregnant, while you are planning and preparing for your baby's birth, make that birth plan. I know that there are hospitals who say, "Oh, we don't want people to come in with a birth plan." But it is extremely important for you to decide to research and decide what it is that you want for your birthing. What would be the best case scenarios? Knowing that you're going to be flexible when you get in there if needs be, and many times there are. But if whatever it is that you want is not written out, let's say, it will not be as solid in your mind, your conscious mind, in your subconscious mind. So either write it out on paper or we have a lovely artist, a graphic artist who does one for Hypnobabies, and she does it for others as well, that has little icons. And this one will say, I want to be able to be mobile. And this little icon will be all about letting birth proceed as it should without Pitocin and just different things. But there's little icons and just little things that are visual reminders of what it is that you want.
So make that birth plan. Give one to your doula if you're going to have one, give one to your doctor and just discuss your plans with your doctor. It will definitely let you know how on board your doctor is with what it is that you want. And then of course, take a couple of copies with you to the hospital or birth center and present them there to the nurse and let them know what it is that you need. Nurses are the unsung heroes and a birthing in the hospital when you're talking to them about what it is that you would like for your birthing and presenting your birth plan be nice, be kind, be polite, be courteous, and set up the tone for your birthing when you walk in as a positive one.
Most people focus on the physical aspects of planning for birth, doing exercises or doing yoga, but it's also super important for you to plan emotionally and mentally with things like meditation and affirmations. If you can find affirmations that you really love, we have them in Hypnobabies and our students listen to them every single day so that from the outside in, they can be hearing the positive suggestions about their pregnancy and about the birthing that's coming up. So whoever you are, whatever affirmations you want to use, find 10 of them and write them out and put them up on the walls all around your bedroom. And then repeat them to yourself every single day about your pregnancy, about your birthing, how great it's going to go. And just see those and repeat them over and over again.
Aviva: Kerry, how many babies do you think have been born through the Hypnobirthing work through Hypnobabies at this point?
Kerry: Probably about a hundred thousand.
Aviva: Wow. Yeah. That's amazing.
Kerry: We have a wonderful Facebook support group for our hypno moms and hypno students, and for anybody who wants to learn about Hypnobabies as well. But we have about 10,000 people on there at any given time who are just helping each other out. So a new person will come on and say, I just started Hypnobabies. And 10 people will jump on and say, oh, it's this, it's that. This is what I did. This helped. And in the, of course, all of us were admins jump on and help, but then the birth stories come through and it is the most gratifying thing in the world to hear from people who were so, first of all, skeptical and did it anyway, and then scared. They started out really scared of childbirth. And then because of right from the beginning of starting Hypnobabies, you become much more confident and calm and relaxed about everything because of what you're practicing, what you're reading. There's a lot of written material in Hypnobabies because we're a complete childbirth education force. So you're reading things that helping you to plan for and create the kind of birthing that you want on several different levels.
Aviva: Well, Kerry, that's an incredible scale and scope of people that you have reached and help them transform their experience. I had the gift of being doula to my friend Gabby Bernstein, who used Hypnobirthing and absolutely loved it. My daughter-in-law, who is a Harvard trained pediatrician who I had the privilege of midwife and her two babies at home used Hypnobirthing for the second baby, and she loved it too. And I can honestly say I was there with her the whole time. She had a little smile on her face through a lot of her rushes. And not to say that everyone has that experience, but I have seen the beauty and the power of it. So thank you for all that you do. Thank you for reaching out to me to join me on the podcast. It's a total honor to have you here, and we'll put all the links for folks to find where you're at and what you're doing. But what's the primary place that people should go if they want to jump on the Hypnobirthing journey?
Kerry: Well, our website is Hypnobabies.com. Our store is Hypnobabies store.com, and that is where our Hypno Babies courses are, our hypnobirthing courses, but also we have a breastfeeding course and a fertility course. We love to get 'em pregnant too. Hypno fertility, and many different individual tracks, breastfeeding track, eliminating fear of childbirth, eliminating fear of needles, eliminating nausea, things that are very, very helpful when you're pregnant as well.
Aviva: Well, thank you so much for being here with me today. And everyone, thank you so much for listening. You know where to find Kerry and her wonderful work, and we wish you an absolutely beautiful mama journey. See you next time.