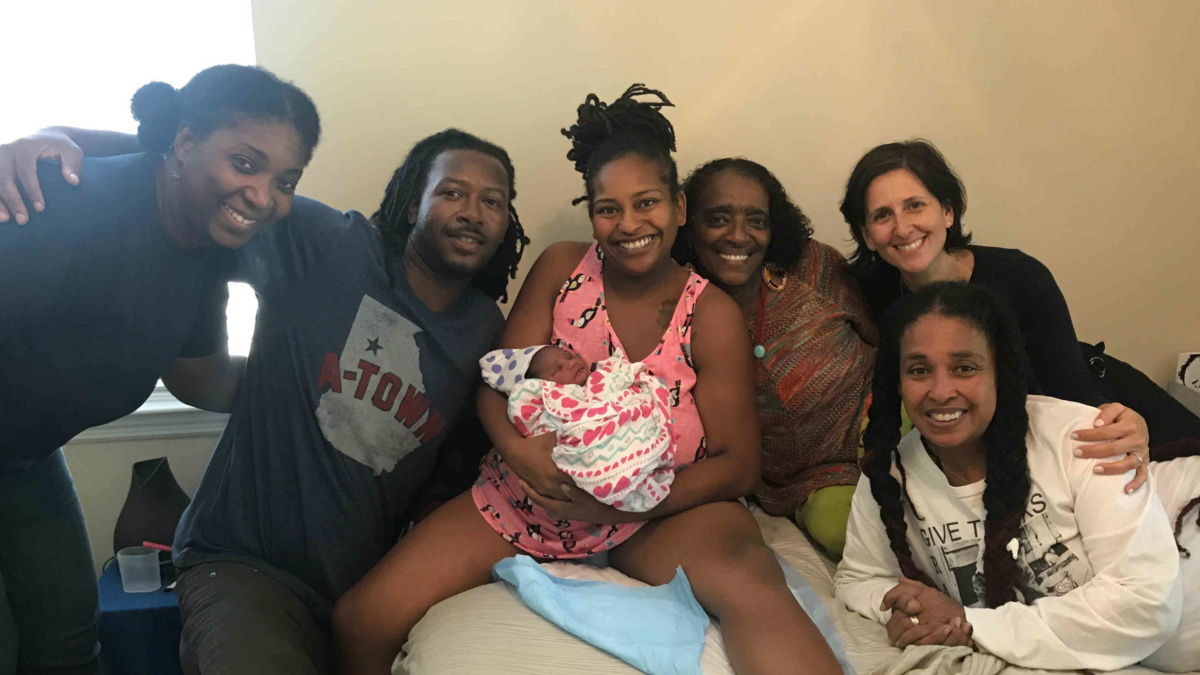 Image above: The weary but joyful crew and radiant new parents, Lealah and Takesta, with their beautiful new daughter.
It is truly a special joy to be able to share this story and episode of Natural MD Radio with you. My dear friend and 'niece,' Lealah Henderson's recent home birth was truly a family affair. Her mom, traditional midwife Sarahn Henderson is known in the Atlanta birth community – and nationally – as Mama Sarahn, having practiced for almost 4 decades and having midwifed thousands of babies. She also happens to be one of my closest friends and has been for over 30 years. Additionally, she was my midwifery mentor and home birth midwife for my first baby.
Similarly, our dear friend and fellow midwife, Sister Nasrah, was the midwife for Lealah when she was born – and she was there for my first birth and much of my early midwifery training. And if that isn't enough, incredibly, they were also the midwives at Lealah's partner's birth! So this momma and dad were both born at home – with the same women present!
I've known Lealah, now 29 years old, since before she was born – and held her for the first time when she was just an hour old! She and my kids grew up together in ATL. Lealah grew up steeped in a community of midwives and she knew early on that she wanted to birth her baby at home – in fact, she never really considered any other options. As her due date approached, she began to talk about her "dream birth team," which included her mom, me, and Nasrah. I was honored to be invited to attend though I now live a thousand miles away.
Ask any home birth midwife – it's kind of hard to schedule a birth. I didn't see how I could make it, no matter how strongly I felt drawn, without "camping out" in Atlanta for 2 weeks. Yet somehow, some way, everything aligned and I was able to make my way to Atlanta the day before she gave birth. It was an unforgettable experience, returning to my roots in midwifery in the deepest way I can imagine.Talk about manifesting your dreams! And as you'll hear in this birth story – as it turned out, this birth really was all in the family! Lealah is now a new mom with an empowering birth story to share, and she generously agreed to do so with all of you!
In today's episode, we discuss why Lealah decided to have a home birth, why she assembled her dream birth team, and she shares a detailed account of the birth as it unfolded. Tune in to learn firsthand what home birth is like, and how family and community can make all the difference. Note that we do talk graphically about birth in this episode
In this episode we discuss:
Why Lealah wanted to have a home birth
How Lealah assembled her dream birth team
The birth story of Nnandi
Adjusting to life after giving birth
Lealah's postpartum reflections
Links and References