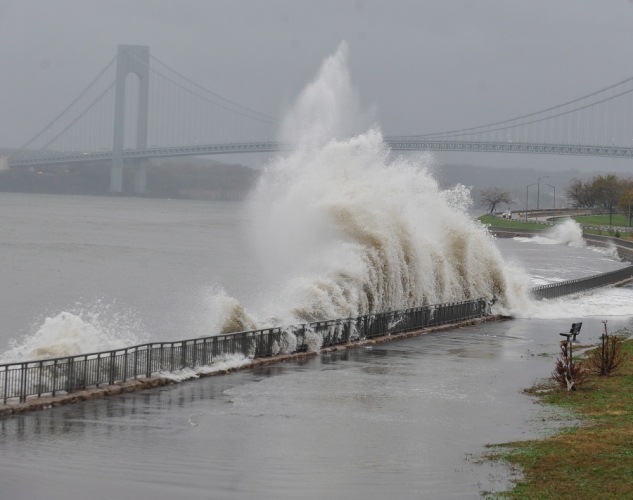 10/29/12. We are in the early hours of Hurricane Sandy. Our town's electricity went out about an hour ago; trees have fallen on nearby power lines. Just prior, my husband and I checked the Internet for storm updates. We were astonished to discover that some people in areas predicted to be hit hard – even by 12-foot waves and severe floods – were refusing to evacuate. Local officials and the Red Cross were issuing warnings and making statements such as "Do you want to be someone that an aid worker has to risk their life to save?" and "Do you want to be someone whose family cannot reach and is worried sick about your safety?" Sometimes home is just where the heart is; sometimes fear keeps us from taking help, moving to higher ground, or leaving our comfort zones.
This storm reminds me of the old parable about the man who refuses to evacuate in the face of an encroaching flood. A first attempt is made to evacuate him before the storm hits. Soldiers in a jeep offer to get him to higher ground. He refuses, saying, "God will save me." Soon the waters are up to the second floor of his house and another group of soldiers come by, this time in a boat, offering to bring him to safe land. Again he refuses, saying, "God will save me." Finally, the man is on the roof of his house, cold floodwaters surrounding him. A chopper flies over. Soldiers call down to him by bullhorn, offering, for the last time, to save him. And again he refuses, repeating, for his last time, "God will save me." The man drowns. He goes to heaven.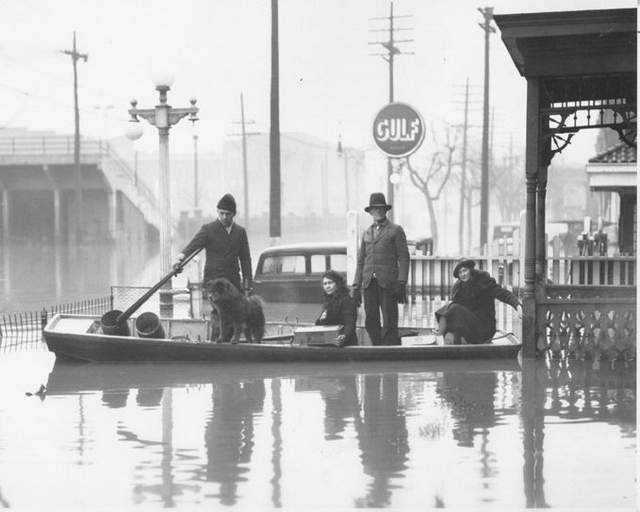 When he is before God he says forlornly,'God, I had faith in you, I believed you would save me, but you let me die." To which God replied, "I sent you a jeep, I sent you a boat, and I sent you a helicopter; what more did you want?"
While I am not part of a religious faith, as a midwife and physician, this story has long resonated with me powerfully. It's consistent with a saying I learned from a Muslim midwife when I was in the early years of my practice, " Have faith in Allah and tether your camel." The spirit of this adage has never failed me.
As a radical health care activist I believe in taking our health into our own hands. I also believe in using medical technologies appropriately and responsibly. I am not one who will, pardon another metaphor, throw the baby out with the bath water.
This storm and the evacuation refusals got me thinking of this woman I knew long ago. Jennifer. A chiropractor and the mother of young children, Jennifer was rabidly anti-medical. So much so that she actively discouraged women planning homebirths from utilizing the services of midwives, insisting that if they "really had faith" in their bodies, they'd birth at home alone. She once convinced an 18 year-old first time mother to deliver her baby – who was in a breech position – at home, alone, instead of working with the local OB who supported vaginal breech delivery, or even having a midwife experienced in breech births with her. Thankfully the birth went ok. Most births do, most of the time. It's just when they don't that…
Now here's the thing, the body does have seemingly infinite wisdom and self-healing capacity. Many conditions, left alone, are self-limiting and will heal given simply the tincture of time.
Birth, which is not a medical condition at all (for most women), but a natural process, has been entirely usurped by the medical industry – over-medicalized and pathologized to the extent that the national cesarean section rate is over 30%. This is leading a growing cadre of women to take extreme measures to completely avoid all medical intervention.
The truth is that left alone, even quite literally, most women will birth spontaneously and without complications. I gave birth to my 4 children at home – naturally and easily. I am also aware of what can go wrong with birth, and the jeopardy into which birth complications can place the lives of mothers and babies. I prefer to have an understanding of when medical intervention is appropriate and necessary, and use it judiciously in those circumstances.
Let's return to Jennifer's story. About ten years ago, several years after I'd last had contact with Jennifer, I received a late night phone call from her husband. I barely knew him. He was reaching out in despair and loneliness. He told me Jennifer had died a few months prior, leaving him a widower with 3 children, all under 10 years old.
Jennifer had developed an ear infection. In spite of getting progressively sicker over ten days, with fevers and delirium for several, she adamantly refused medical care. Finally, her brother, who had been informed she was sick, came to her bedside. He hoped to convince her to go to the hospital. When he arrived, she was barely coherent. He lifted her up and took her to the hospital. But it was too late. She died shortly after arrival. The cause of death was fulminant sepsis. She had an ear infection and she'd refused to get treated.
I know this is a terrifying story. And extreme. I don't mean to be scary. But it is entirely true without embellishment or exaggeration. And it illustrates a point.
Searching for meaning and lessons in his wife's death, Jennifer's husband reached out, thinking I might somehow make sense of Jennifer's choice, somehow make it seem less insane. My heart flooded with empathy and sadness for him, my voice offered him consolation, but my mind was reeling with horror that this happened and I initially felt angry at Jennifer. I recalled the number of women she'd encouraged to take unnecessary risks. Strangely, though I then felt a peculiar flood of empathy for her. Her death was, needless to say, horribly tragic. But she was terrified – to an extreme – of being a victim of unnecessary medical interventions, so she avoided medical care – at all costs. And the ultimate price was paid.
A deeper question this all begs is what do we need to do to change the entire health care system so it is patient friendly and not a system in which people afraid to lose their autonomy and choice. Medicine should be that way: it is predicated on 4 essential rights of patients, patient choice and autonomy being amongst these.
As a midwife and medical doctor, I spend my life exploring the proper role of medical interventions in our lives – when we can treat with natural approaches, when medical care is needed, and when we need to say enough is enough to over-medicalization.
I've seen far too many patients unnecessarily or over-treated to the point of iatrogenic (doctor-caused) complications. I recently witnessed a life threatening complication in a woman in labor, and her unborn baby, because of a poorly chosen obstetric intervention. This was in a major hospital. And because the laboring mother had HIV, the medical team was also placed at risk as a rushed emergency cesarean section ensued.
The fact is that the cesarean section rate IS over 30% nationally and this is a major problem. Unnecessary cesareans significantly increase maternal morbidity and mortality. We know that midwives reduce cesarean numbers, as does homebirth, and yet there aren't enough midwives to go around. This is entirely due the obstetric medical hegemony that prevents midwives from practicing legally in many states, makes medical back-up for home birth nearly impossible to obtain, and so constrains the definition of normal that many women can't meet criteria for birthing at home or in birthing centers.
As one of my readers astutely commented to me, much of what is happening in the do-it-yourself birth movement is a natural reaction to an extremely prohibitive situation. It is not always optimal or ideal (though it is for some women); it is often an all or nothing choice.
Unlike the man who refused the jeep, boat, and plane, I prefer to accept reasonable life-saving assistance. Unlike Jennifer, I would prefer to take an antibiotic and be there for my kids' birthdays rather than holding to extreme and restrictive ideologies. Like those of you who are making difficult health care choices every day, I, too, have had times when I have been uncertain of when medical interventions are appropriate. I have tremendous faith in my body, in all of our bodies' abilities to heal. But my pragmatic side always reminds me to tie my camel!
I became a physician to better support and guide my patients – and you, my readers – through difficult health care choices, armed with information on the pros and cons of both medical and natural health options, and a deep understanding of when medical interventions are – and are not – necessary. While I do emphasize natural approaches whenever possible, which is most of the time, it is important to know when a medical intervention is the most appropriate. That is a significant part of what this website is dedicated to – giving you accurate information and insight into making wise health care choices.
Please let me hear your thoughts and struggles over medical intervention choices – and what kind of information you need on health care. On this stormy day in New England I invite you to 'flood' my inbox with your heart's concerns. And if you are reading this post, my electricity has been restored – at least temporarily! I hope you are safe and dry wherever you are!
Love, Aviva