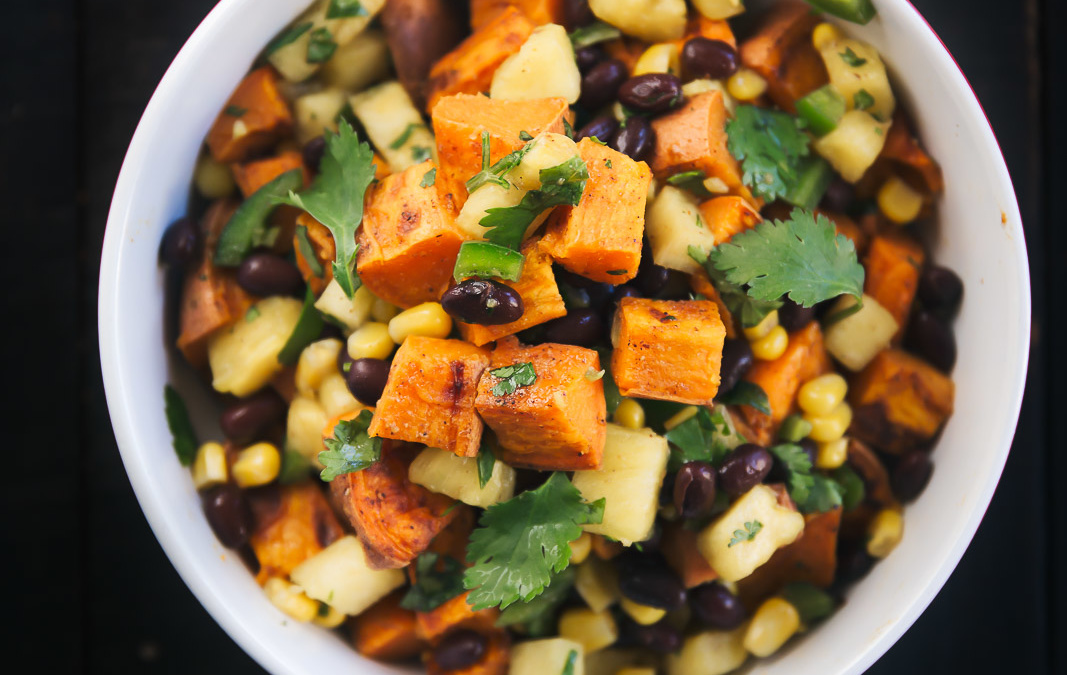 There are few flavor combos I love more than corn-black beans-and cilantro hitting my palette, and right now, the cilantro is in full force in my garden.
I not only love the flavor of cilantro, but it's got a story behind it for me that is formative and sentimental. It was the first herb I grew once I knew that herbal medicine was a thing. My at-the-time boyfriend's mom, a world renown philosopher and avid gardener, taught me how to grow it indoors in pots, got me started on my first plants, which I hung from macramé planters I made (of course, but no, I didn't own a pair of Birkenstocks – not yet, anyway!) and I'd nibble the leaves, then the flowers, and eventually it went to seed producing beautiful brownish coriander seeds – also nibble-able, while I was studying herbal medicine from books and anywhere I could learn. She was an incredible woman who embraced me at a time when my relationship with my own family was rocky, and I was already 'emancipated' and living on my own (yes, I have quite the life story!).
What's been a surprise to me is just how eager cilantro is to grow. I didn't even plant any in my garden this year – but she's volunteering all over – in the beds, even in the pea-gravel paths. But I'm not complaining. If cilantro wants to grow like a weed, I'm happy for it.
Now some people HATE the taste of cilantro. If you're old enough to have experienced the corporal punishment – or even the threat of – having your mouth washed out with soap (yes, I am that old, and it did happen to me – sassy girl that I was), or have just accidentally gotten soap in your mouth, you'll understand the poor souls who can't enjoy cilantro. A small but very real percent of people have genetic variation that makes cilantro taste like soap! You folks – just skip the cilantro in this recipe and use dried cumin instead – it's still mighty delicious.
Okay, so back to this salad. Black beans are so healthy for you. They are good for your hormones, heart, cholesterol, microbiome, and with that – your mood, weight, and daily BM habits. It's because they're loaded with food fiber that balances blood sugar, insulin, and estrogen. Beans give you gas? Not in this recipe! Cilantro and/or cumin take care of that for you, with their carminative (herbalist-speak for gas preventing/relieving) actions -will make it easier to enjoy beans than you ever knew possible.
Then there are the sweet potatoes. Master Masanobu Fukuoka, of the One Straw Gardening Revolution, aka or "do-nothing farming" a very early book on organic farming and sustainability (I told, you I made macramé plant hangers – so I just know this old hippie stuff like the back of my hand) said sweet potatoes were one of the best things we could eat for our gardens.
What? Eat FOR our gardens? I know you think I've made a grammatical error. But I haven't. You see one of the ways Fukuoka nourished his gardens was using night soil. I'll leave that for you to look up – but suffice it to say – it's widely used practice to transform human excrement into good, organic compost. Sweet potatoes, also with their high fiber content, are great for the bowels and microbiome (if you're a proponent of the ancient practice of the doctrine of signatures, where the appearance of a plant suggests the organ it's used for, well a healthy sweet potato does look like a healthy number two which on the Bristol Stool Scale is actually #4 (Google image that one – it's a handy scale to know about!).
And then of course, there's the kale. Fiber, phytoestrogens, and phytochemicals that balance your hormones, support natural liver detoxification, and more goodness to support your microbiome. Who said eating your greens isn't the best thing ever?
Finally, the grilled corn! Don't have a grill? I grill my kernels right in a skillet on my stovetop. Takes about 7 minutes to create golden grilled corn this way. Easy .
This recipe was inspired by the cookbook, A Modern Way to Eat by Anna Jones. The delightful book with the gorgeous photos we've come to love in the new cookbook genre, is filled with surprising new ways to prepare old vegan favorites.
High Summer Grilled Corn, Sweet Potato and Kale Salad
Print Recipe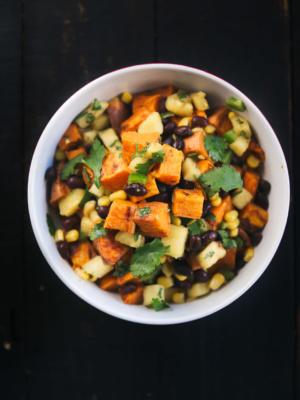 The unexpected naturally sweet and savory flavor of the oven roasted sweet potatoes with paprika, with the slight tang of lime drizzled over massaged kale bring a perfect taste to this salad. It is savory and satisfying. You also get the benefit of healthful kale and sweet potatoes, both of which are full of minerals, vitamins, and immune supporting antioxidants. Goes great with healthy Mexican fare!
Ingredients
4

sweet potatoes

peeled and chopped into bite-sized chunks

1

tsp.

smoked paprika

1

tsp.

honey

optional

Extra virgin olive oil

1

bunch of curly kale

juice of 1/2 lime

1/2

cup

frozen corn

organic

1

can drained and rinsed black beans

1/4

cup

chopped fresh cilantro

skip if you don't like it!

1/2

tsp

cumin powder

salt and pepper to taste
Instructions
Preheat oven to 400 F

Put sweet potatoes onto a baking tray, drizzle with olive oil, honey, and toss in the paprika, salt & pepper. Roast for 35-40 minutes, or until potatoes and soft on the inside and just a little crisp on the outside.

Remove the stems from the kale and chop the leaves into bite-size pieces. Put into a bowl, add lime juice & a pinch of salt, and then "massage" the kale with your hands for 3 minutes to soften.

Heat a skillet until hot and add the corn, stirring frequently until slightly brown . Then add it to the kale.

Add the sweet potatoes to the kale and corn when done.

Toss it all together and serve
Notes
Serves 4-6. Leftovers are delicious at room temperature.
I served this dish with vegetarian chili and sliced avocado on the side.