When my kids were little they thought I was a "meanie mommy" for not letting them wear the kinds of pajamas their friends wore. Instead they slept in cotton long johns – albeit in cute colors.
A Baby's Body Burden
I wasn't mean: I was preventing them from wearing jammies with flame retardants. Instinctively, a decade before research revealed that flame retardant materials didn't protect kids from burns in house fires and that it was carcinogenic, I went organic. My kids have forgiven me, and Tris, the chemical that made kids PJ's flame retardant, has long been removed from kids' garments due to well-established biological safety hazards.
But guess what, moms? Similar chemicals are packed into our sofas and tons of baby products – even nursing pillows! The average American baby is already born with a chemical body burden – in fact, babies born in the US have the highest recorded levels of flame retardants amongst babies in the world!
According to Pulitzer Prize winning journalist Nicholas Kristof, "A generation ago, tobacco companies were facing growing pressure to produce fire-safe cigarettes, because so many house fires started with smoldering cigarettes. So tobacco companies mounted a surreptitious campaign for flame retardant furniture, rather than safe cigarettes, as the best way to reduce house fires."
Flame retardants are similar to PCBs, chemicals I have written about previously. They are linked to health problems ranging from lower IQ to diabesity. Penta, a chemical that was previously packed into couches and other furniture, turned up in the blood of babies and in breast milk around the world. The European Union banned it after researchers linked it to developmental and neurological problems in children, and manufacturers pulled it from the market.
"Safer" chemicals were supposedly created as alternatives in the US but it turns out that "Firemaster 550" and others were just as dangerous as their older cousins. According to Kristof, Big Chemical and Big Tobacco are in on this one, hand in hand. There's a lot of smoke and mirrors behind the data.
Babies and Children are the Most Vulnerable
Our kids get the biggest household exposures! One researcher found that a fifth of the nursing pillows, car seats, highchairs, diaper-changing pads and other products made with polyurethane foam contained the "alternative." And the most common flame retardants detected in baby products? Chlorinated Tris! The very stuff taken out of pajamas wasn't banned from commerce; it just migrated into other kid products!
Why do our babies and toddlers get such high exposures? Dust containing the chemicals gets onto our floors, and our little ones are exposed through breathing it in and ingestion when they play on the floor.
Let's be "meanie mommies" and get this stuff out of our environment once and for all!
5 Steps to Protect Your Baby or Toddler from Flame Retardants
Wash your baby's or toddler's hands regularly and before they eat; Reguarly rinse toys that have been on the floor that will end up in their mouths.
If you have wood floors, damp mop regularly to remove as much chemical dust as possible; if you don't have wood floors and can afford to, switch to wood flooring.
GO GREEN: Use your purchasing power to demand products free of hazardous chemicals and don't use baby paraphernalia you don't need.
If you are just furnishing your home, decorate with wood and consider futons made of organic cotton materials rather than foam for your chairs, sofas, and bedding.
Avoid upholstered furniture and carpet padding made with polyurethane foam.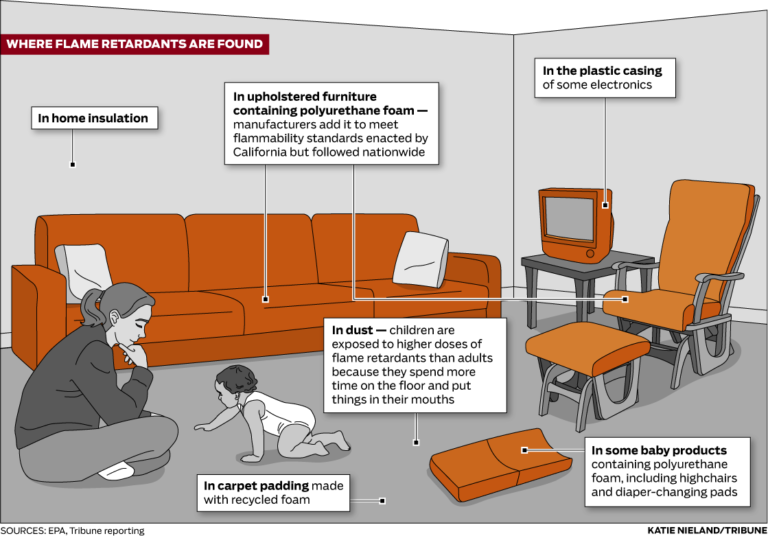 Illustration from The Chicago Tribune (online) which did a thorough investigative report on flame retardants in the environment. The article is some years old; the problem with these toxins remains ongoing.