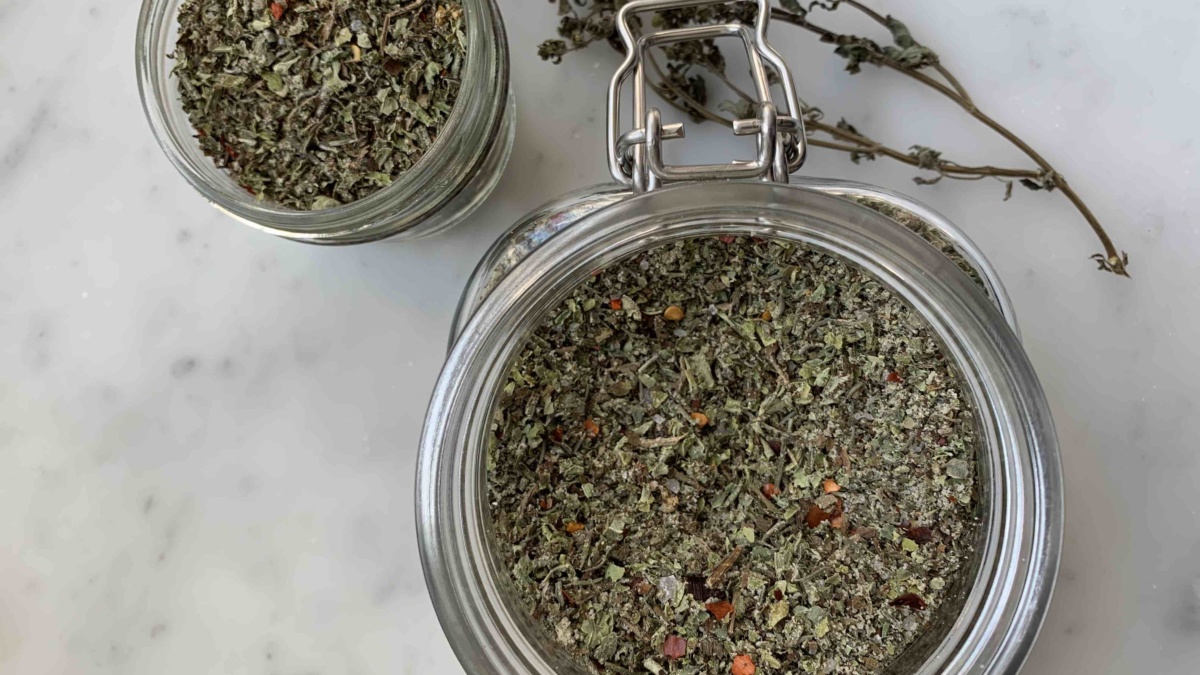 I just bought a new toy, a pair of 5-blade herb scissors for cutting the fresh herbs from my garden into tiny pieces. By gently drying them, I can make a simple Italian herb mix that I use to bring a taste of my garden into my kitchen all winter long.
Cooking spices are nature's delicious herbal pharmacy. Studies show that including even small pinches of fresh or dried herbs like rosemary, thyme, and oregano in a salad, for example, can spice up your metabolism (and even help with weight loss), reduces inflammation, improves immunity, and boosts your body's natural detoxification processes. They may be one of the "secret" ingredients in Blue Zone diets – diets that lead to the greatest health and longevity in the world.
So how do I make this magically delicious blend?
First, I cut the fresh herbs (no stems please) into small pieces and lay them out on a cookie sheet. You do not need a 5-blade scissors – any scissors will do, or you can gently chop them on a cutting board. Then bake in the oven on a very low temperature – ideally at 160 degrees, if your oven will go that low – mine doesn't – but no more than 180 degrees) for max 2 to 3 hours. Remove from oven periodically and mix around to make sure the herbs are drying uniformly. Remove from oven when they feel dry and allow to cool on the cookie sheet for another half-hour. If they are dry before the 2 to 3 hour time, they're done – it all really depends on the water content of the herbs you start with.
Store in a clean, dry glass jar (i.e., a mason jar) and use liberally – even daily.
In my mixture I use fresh thyme, oregano, basil, parsley and rosemary. I usually make a one-pint mason jar of just the herbs alone, to add to soups, pasta sauce and other recipes that call for just the herbs, but I also put up a jar of a mix in which I whiz the dried, cooled herbs in my blender for a minute to grind them (they're not quite a fine powder when done, but close); I then add sea salt, garlic powder, and red pepper flakes to the herbs, shake well, and store in a clean, dry mason jar. For 1 pint of herbs, I use about 1 TBS. Himalayan Salt or Sea Salt, 1 TBS. organic garlic powder or garlic flakes, and 1 tsp. red chili flakes – but play with your own proportions. This mix is what you see in the picture on this page – and if you'd like to see a short video of me making this, check it out in my Instagram Stories.
Now I have a ready-to-go, full flavor seasoning for everything from omelettes and pasta, to homemade vinaigrette. In fact, I truly never buy bottled salad dressings – they are usually a hidden source of sugar, guar gum, carrageenan – and why would I ever want to put those onto my beautiful healthy salad?
Here's my Italian Vinaigrette recipe:
1/4 cup of red wine vinegar (you can also substitute balsamic vinegar, which is slightly thicker and adds a slightly sweet taste, or 1/4 cup of fresh lemon juice)
1/2 cup extra virgin olive oil
1 TBS. (or to your taste) of the seasoned herb mix (i.e., with the salt and other seasonings added) OR 1 TBS. of the dried herbs and then add salt, pepper, etc, to taste)
Mix and place in a clean dry jar. It's ready for immediate use, and will keep in the fridge for up to 5 days (3 days if you use the fresh lemon juice option).
Grow Your Own Herbs or Purchase High Quality
Many herb plants grow beautifully in a kitchen window all year round and can be purchased at an organic grocer, farmer's market, or your local garden store. Pick up an oregano, thyme, or chive plant and enjoy fresh, healthful cuttings for your salad dressings every day.
If you don't have access to fresh herbs, you can make your own mix by purchasing dry herbs of your choice from a source like Mountain Rose Herbs. What I particularly like about Mountain Rose is that their herbs are organic and you can purchase them in small enough amounts that it doesn't break the budget.