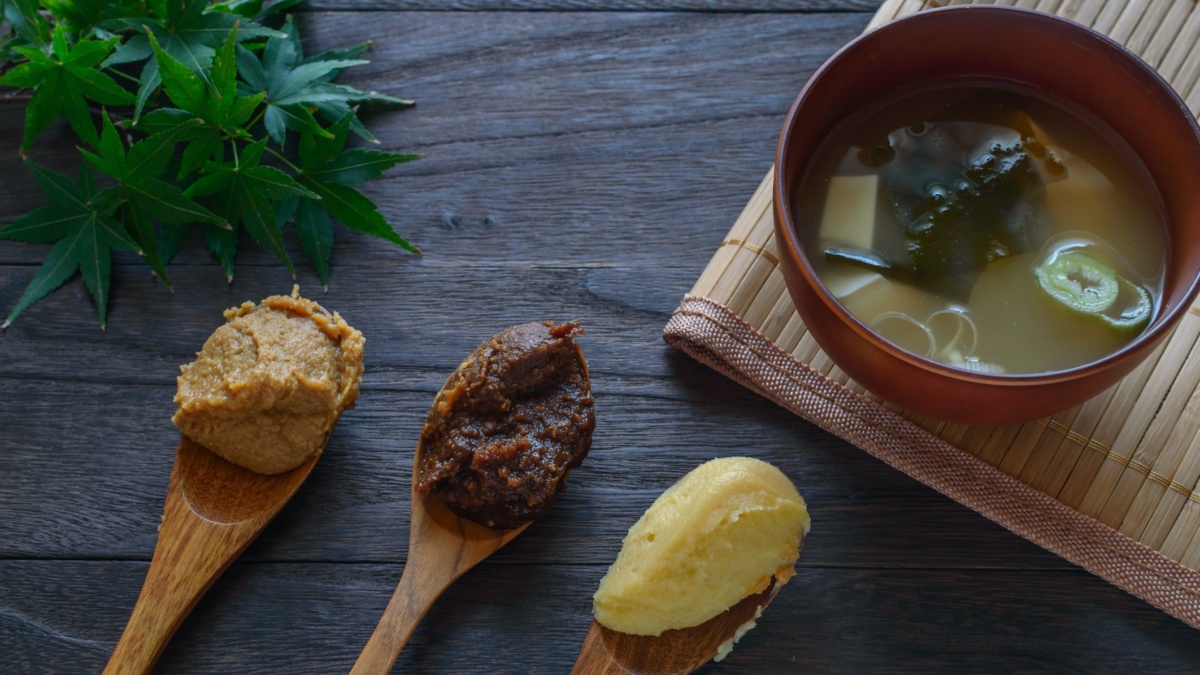 Miso soup is my personal go-to. I enjoy it all year long, and it's a part of my regular diet in the fall and winter. It's also what I turn to first if I ever feel cold symptoms brewing.
In Chinese medicine, herbs are traditionally added to soups for their tonic properties. If you think about, it's not that unusual –  most of us from many different cultures, include herbs like  garlic, onions, and bay leaf in soups.
This soup may be an acquired taste, though, if you include the optional classic immune tonic Chinese herbs I list as possible additions. The taste with the herbs is definitely interesting – root-like and earthy.
If you can't get all of these herbs, or you're pregnant or just prefer it plain (which is my usual way of enjoying it, too) that's okay –  it's still great for you!  Shiitakes, garlic, onions, and ginger also support a healthy immune system.
Here's the recipe:
1 yellow onion, diced
10 shiitake mushrooms, chopped
2 large carrots, sliced into matchstick sized pieces
1 teaspoon fresh grated ginger
2 quarts water
1/4 cup pieces of wakame or kombu seaweed
4 cloves chopped garlic
1/4 cup organic red miso paste (or chickpea or other miso if you don't use soy)
The (optional)herbs:
2 slices dried astragalus root (these look like a doctor's tongue depressor)
1/4 tsp teaspoon dried red ginseng slices
1 – 3″ length of codonopsis root
Of note, the added herbs are not eaten – they are cooked and removed – much as if you were making any herbal tea. I put them into a stainless steel tea ball, and remove it at the end before serving.
In the US, organic bulk herbs can be purchased in small amounts from my favorite source, Mountain Rose Herbs. (I have no financial relationship with them – I just think they do a great job!) Just get the smallest amount you can purchase – a couple of ounces of each – to see if you like it.
Optional:
1–2 cups cooked rice, soba, or udon noodles to make it a ramen bowl
Slices of cooked chicken breast, ½ brick cubed tofu, or 1 egg cooked to your preference, per served bowl
You can add the tofu or pieces of cooked chicken breast while cooking the soup, or add to your bowl after; you can additionally or alternatively top with an egg cooked to your taste after you've served it, if you want to make this a complete meal.
To prepare:
Sauté the onion, shiitake mushrooms, carrots, garlic, and ginger.
Add the water
If using the herbs, now add the astragalus root, ginseng, and codonopsis slices (ideally in a tea ball or mesh bag)
Simmer for 30 minutes
Remove the astragalus, ginseng, and codonopsis slices
Dissolve in the miso paste
With the herbs, a serving is 1 cup. Without, enjoy as for any soup.
Children can enjoy it freely without the added Chinese herbs, or have 1/2 to 1 cup/week if over 5, if made with the herbs. Avoid during pregnancy if making it with the added Chinese herbs, and use your discretion if breastfeeding if adding the Chinese herbs.
Otherwise, enjoy freely as you would any soup!