As summer's wild and sunny days give way to the quieter pace of autumn, I too, find myself willingly yielding to a quieter rhythm. Within this space I do a lot of taking stock of what's going on in my life from many angles – my health, relationships, work, etc. I do this using the total health wheel below, which I copy onto a large piece of paper, and then use to make notes about where I need to nourish my life and self (students in my course Herbal Medicine for Women learn how to make use of this wheel for themselves and other women in their lives).
In a way, the autumn for me is what New Year's is for many women – a time of reflection and renewal as I plan and create intentions for the upcoming year.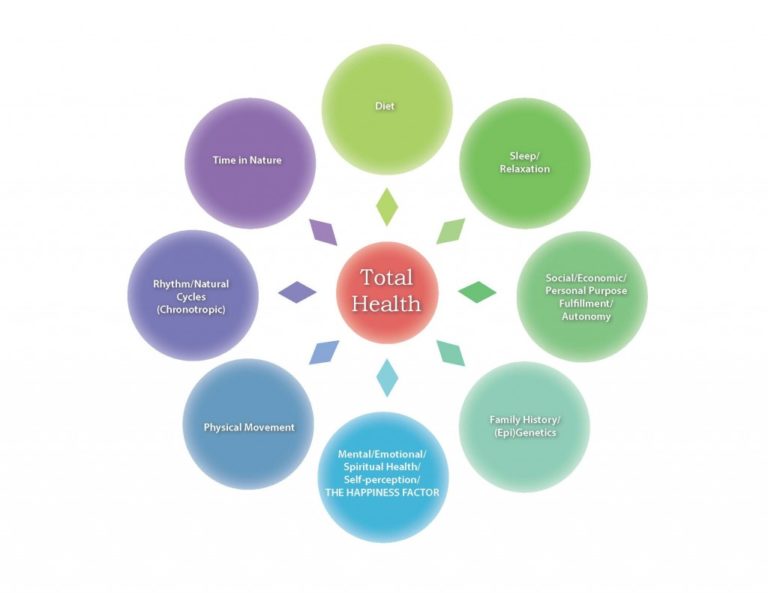 It's also a time when I take stock of what's on my plate – metaphorically and literally.
I ask myself if I am taking on work and projects that "feel" good to me, that leave me with enough time to nourish myself and my loved ones, to stretch my creative wings, and also play – or am I taking on unnecessary obligations that will later leave me feeling weighted down and burdened.
And because I know that what I eat has an impact on my health on every level, I pay attention to the food I put on my plate!
Many cultures and spiritual traditions include a period of fasting – whether skipping food for a day or skipping certain foods for even weeks at a time – as part of the journey of inner reflection and mindfulness. While I do not participate in any religious fasts, I have found that rebooting my diet – by eating more simply than usual for a short period of time –  at the change of a season gives my entire being a fresh start. With a lighter diet that is seasonally appropriate I find myself revitalized.
I've also got a little health secret for you: Healthy eating begets healthier eating. Taking stock of what's on your plate NOW will help you keep on track through the holidays. Rather than letting Halloween, with its more treats than tricks slowly bleed into a Thanksgiving carb fest and that into the Winter holidays with alcohol, sugar, and more carbs – by which time you're saying, "What the hell," "I'll diet after New Year…," you can nip sugar and carb cravings in the bud right now with a gentle autumn detox. Just as you're packing away your summer clothes in exchange for your fave autumn boots and sweaters – pack away any funky little food habits you've accumulated in the past few months and kick start a healthy autumn!
So what's my autumn detox? I just got through my first week and am starting my second tomorrow – and I'm feeling amazing! A little ache in my shoulder has cleared up, my digestion got a little pick-me-up I didn't even realize I needed, my mood feels brighter, I'm sleeping really well, and my mind is sharper (I am currently in a rigorous academic project and I can really tell the difference in the past week!).
As the days shorten we could all use a little extra brightness!
Want to join me?
Here's what I'm eating for my autumn detox.
There are only a few rules for the two weeks:
simple, clean food, eaten mindfully
no sugar, alcohol, dairy, or gluten
try to eat by 7 pm and nothing to eat after dinner
get to sleep at a reasonable hour and aim for 7 hours of sleep each night
if you are not having regular bowel movements consider take 300-600 mg of magnesium citrate before bed each evening with a goal of a normal, well-formed stool each morning
try to drink 8 glasses of water each day
I love it because I feel AMAZING. The menu is easily accessible and you can prepare a few days worth of rice ahead of time. There's no going hungry on this plan – it's entirely satisfying.
Pre-Breakfast: A tall glass of water with a squeeze of fresh lemon juice
Breakfast: Either 2 scrambled eggs with a piece of gluten free toast or a non-dairy smoothie (suggested ingredients include unsweetened almond or coconut milk, almond butter, a non-dairy protein powder, 1 banana, and ½ cup frozen berries. I like to freeze my banana, too – it makes the smoothie taste like a milk shake! Sometimes I also add 1 Tbsp. of cocoa powder for variety).
Midmorning: If hungry, a small handful of almonds
Lunch: ½ cup of cooked brown rice or millet and about 1-2 cups of steamed broccoli, kale, carrots, and onions with a dash of salt and a light drizzle of tahini. As a condiment and for their probiotic benefits, I am also having about 3 Tbsp. of organic sauerkraut (you could use any pickled vegetables).
Afternoon snack: 1 organic apple – and I'm actually pushing myself to eat it even if I'm not that hungry so that I'm not so hungry by dinner that I've practically snacked a whole dinner before sitting down to eat one – something I know a lot of you probably do, too!
Dinner (before 7:30 pm): Same as lunch plus 4 oz. of either (low-mercury) fish or chicken – baked, grilled, or for variety, stir fried with vegetables rather than steaming the veggies. If you are vegetarian, you can use more tahini or lentils for protein during the detox. Again, I'm having a small amount of pickled vegetables with my dinner because they stimulate digestion.
If you're still hungry at lunch or dinner, eat more vegetables, especially the greens and broccoli!
For my beverages I am drinking plenty of water (plain and with lemon), mint tea, and for variety plain chai tea (no milk or sweetener). Green tea is also fine.
This detox is not my recommendation for a long-term diet. Some of you might benefit from one or another of many possible ways of eating, whether a Mediterranean, grain-free, low fermented foods, or a Paleo-type diet. But eating simply and redundantly for a couple of weeks can give your body a much needed sense of rhythm and ease.
Taking stock of what's on our plates  can lighten our load in so many ways!
Try it for even just one week and let me know what you notice! Sugar cravings will fall away. I suspect you'll feel energized, and easier in your body and mind. You might just drop a couple of pounds. Inflammation will cool down.
I love it that you're loving yourself by reading these articles! Remember to drop a comment, CLICK ON LIKE AND SHARE the information and inspiration with friends!
Happy Autumn…