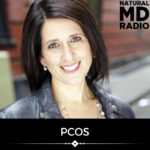 Reposted September 1, 2018
PCOS, or Polycystic Ovary Syndrome, is a hormone condition thought to affect more than 5 million women in the United States alone. No one really knows what causes PCOS, though there are many theories – at first it was thought to be caused by sex hormone imbalances, but we now know that the condition is caused by insulin resistance.
PCOS is considered to be a harbinger of metabolic syndrome and Type 2 Diabetes, which means it's so important for us to pay attention to it and treat it properly. Listen in to hear what causes PCOS, what the symptoms and side effects are, and how you can tackle it naturally.
You can Subscribe to the Podcast on iTunes or Soundcloud
Show Notes:
What is PCOS
How PCOS leads to increased circulating testosterone
The genetic and environmental components of PCOS
How to know you have PCOS
How to take a natural approach to dealing with PCOS
The best results are a combination of lifestyle changes plus supplements
How to balance your blood sugar
The importance of breakfast
Why you shouldn't eat after 7 pm
How to nourish your adrenals
Why I started meditating
What environmental factors you can eliminate
How to optimize your body's detoxification
"How we think about stress can have a tremendous impact on how stress affects us." – Aviva Romm
Links Mentioned:
The Adrenal Thyroid Revolution
For more on the Root Causes of poor thyroid function and how to heal them, check out my book.
Order Now