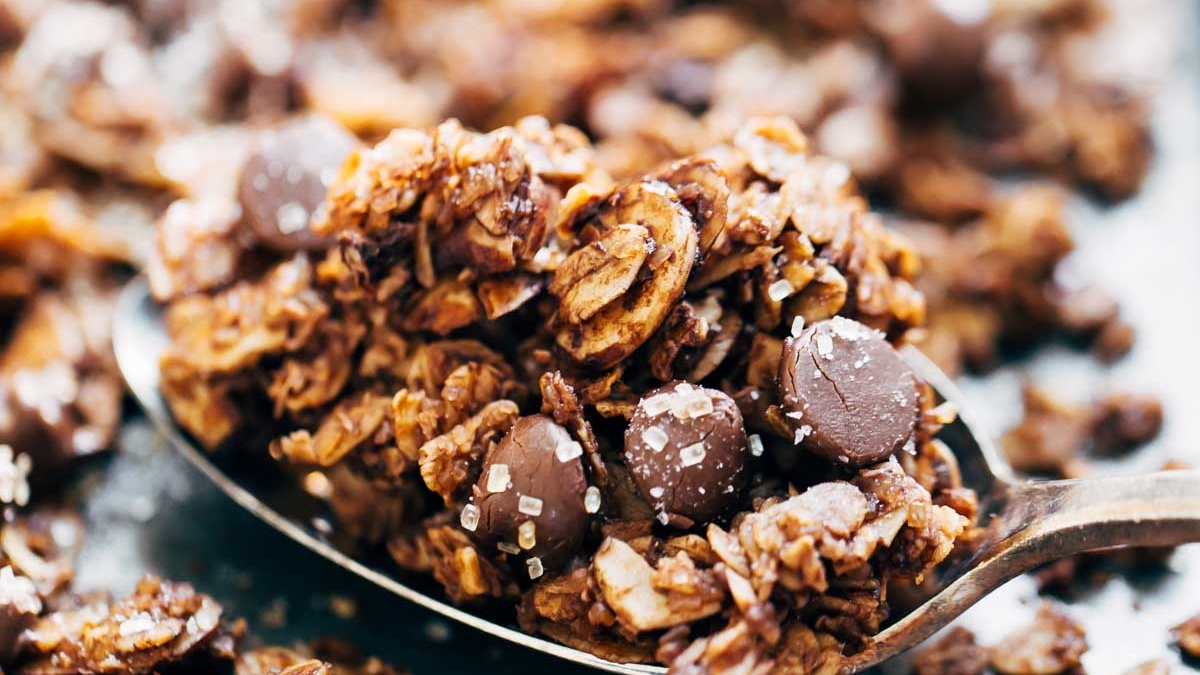 Granola, for all its popularity, is one of breakfast's most controversial foods. I for one love the crunchy texture of the cereal's nuts and grains and find it to be the perfect breakfast on busy mornings when I have to get out of the house fast. But granola of the store-bought variety is often packed with sugar and fat, making it only slightly better than commercial breakfast cereals.
The key to unlocking the vast array of granola's health benefits lies in choosing the right ingredients. At its best, granola is a high-fiber, nutrient filled food that not only tastes delicious but keeps you satisfied from breakfast until lunch.
Making granola at home is an excellent way to control the amount of sugar and fat it contains, and also to ensure that it is chock-full of nutritious and yummy ingredients.
I like to make a fairly standard oat mixture and then throw in whatever I have on hand. For the recipe below, I used extra virgin olive oil, which lends a fruity and rich flavor and lots of health benefits, pure maple syrup for its 'mapley' sweetness, flax seeds for omega 3's, almonds as a source of healthy fats and protein, and raw cocoa powder for antioxidant deliciousness. Feel free to play around with ingredients, for example substituting honey for maple syrup, adding vanilla extract, or even dried fruit such as raisins or cherries after the granola has cooled completely. Enjoy with yogurt, almond/soy or regular milk, or even by the handful as an energizing snack!
This recipe is courtesy of my daughter, Mima, the "flexible foodie."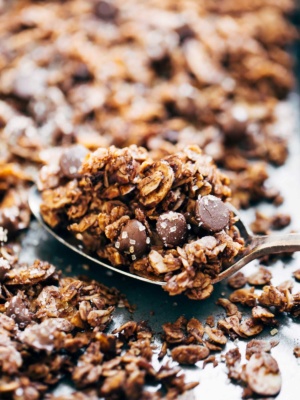 Ingredients
3

cups

rolled oats

1

cup

of raw almonds

chopped or whole

½

cup

unsweetened shredded coconut

1

tsp.

sea salt

½

cup

of pure maple syrup

¼

cup

of good quality extra virgin olive oil

3

tablespoons

golden flax seeds

2

heaping tablespoons of raw cocoa powder

1

tablespoon

of cinnamon
Instructions
Preheat the oven to 300°F.

In a large mixing bowl, combine the oats, almonds, flax seeds, coconut, and salt. Stir together until evenly blended.

In a measuring cup, whisk together your olive oil and maple syrup. Pour liquids over the dry ingredients, and stir until the mixture is evenly coated throughout. Sprinkle in your cinnamon and cocoa powder and give the mixture a final stir.

Spread your granola evenly on a large baking sheet covered with parchment paper. Bake for about 10 minutes and then give it a good stir with a spatula before cooking another ten minutes, or until it turns a nice golden brown color. When it's ready, remove tray from the oven and cool completely before transferring to a large glass jar.