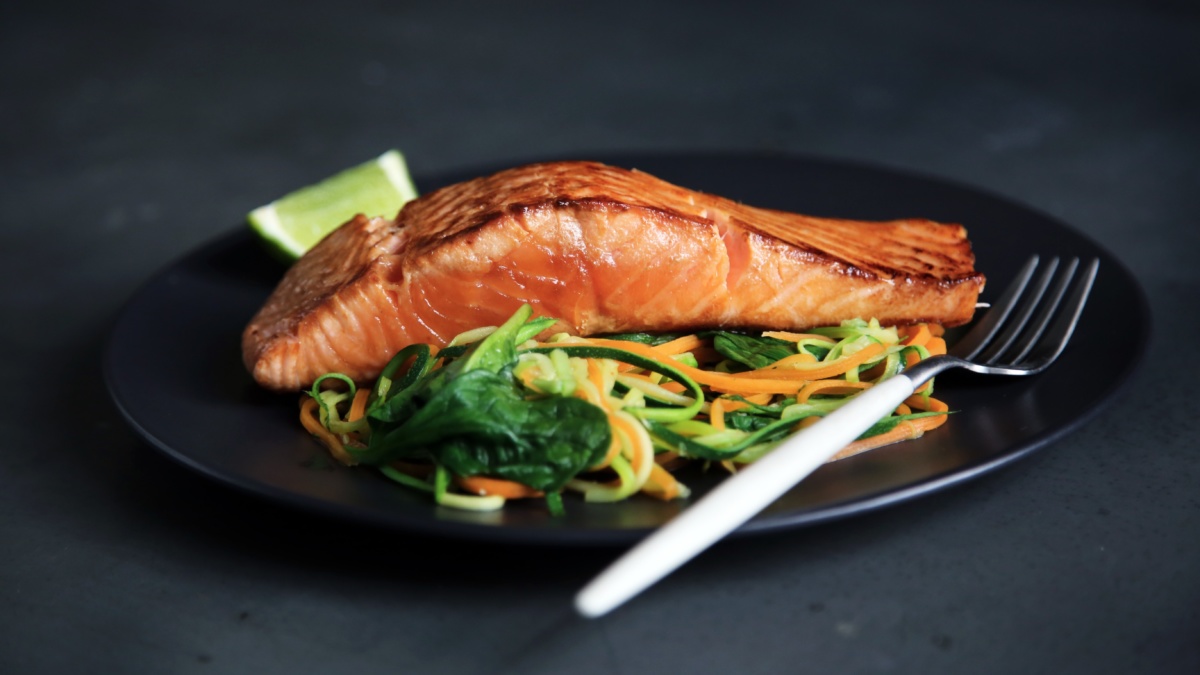 Salmon. It's delicious. It's satisfying. and due to it's abundance of essential fatty acids, it's anti-inflammatory, it's brain food, and it's healing for our moods. For women, it promotes hormone balance, and increasing fatty fish in the diet, especially salmon, has been shown to prevent and reduce period pain and endometriosis.
This dish is also quick and easy to prepare – always a plus in my book! And while all seafood now contains some environmental contaminants, and requires we be thoughtful in our choices and consumption, salmon remains one of the safer ones to enjoy regularly.
This recipe, actually created by my husband who thinks he's not a good cook but really is, has become one of those on rinse and repeat in my house – appearing on my dinner menu sometimes even twice in a week, because we enjoy it so much, or making a rerun appearance as a lunch leftover. The savory, tangy, and wee hint of sweet with mild fish flavor combines for a perfect flavor palette.
I serve it in a variety of ways:
Over rice noodles with stir fry
With a side of steamed, roasted, or sauted kale and a sweet potato
Over a bed of chopped Napa cabbage and grated carrot with a toss of toasted sesame oil, lime, tamari, and chopped cilantro and scallions
Or with a simple green salad.
It's also a recipe that can be doubled – or more- for serving a family or guests, and can be served hot or cold.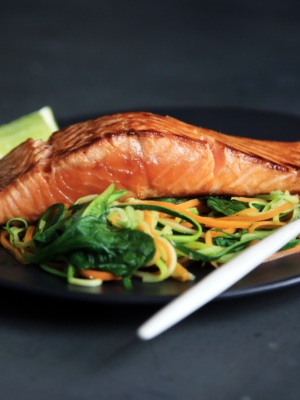 Ingredients
2-4

oz.

filets of salmon

Mustard

Maple syrup

Salt
Instructions
Preheat oven to 425 degrees. Lay 2-4 oz. filets of salmon on a parchment lined baking sheet.

In a small bowl, whisk together the mustard, maple syrup, and salt. Brush it over your fish and bake for 25 minutes (or up to 40 minutes), depending on how well done you prefer your fish.
Notes
Keeps for 2 days in the fridge.