Working in oncology as a medical resident was one of the toughest parts of my training. My patients were you and me. Women in their 20s, 30s, 40s, 50s, and beyond who were feeling fine – until they weren't – and then found themselves with a cancer diagnosis. They were mothers, daughters, sisters, wives, and friends. It was deeply saddening to see their suffering – they are patients whose names and faces I remember well.
It was also terrifying, because I could find no common denominator. It was a constant reminder of our vulnerability.
But is there a common denominator? Can we prevent cancer? What about other chronic diseases?
According to William Li, MD, founder of the non-profit Angiogenesis Foundation, indeed, there is a common underlying factor, and the great news is that food may be our best ally in preventing not only cancer, but diabetes, obesity, and Alzheimer's disease, to give you just the short list.
Angio… What?
You see, the common denominator in not just cancer, but in many chronic diseases, is something called angiogenesis. Angiogenesis simply means the growth of new blood vessels. For most of us, the work of growing new blood vessesls is complete when we're babies. That is unless we are women, in which case we grow them in our uterus every month in order to maintain the potential for pregnancy. If we get pregnant, those extra blood vessels will be available to feed and grow our placenta and baby; if not, they will diminish and our menstrual period will come.
All of us are also able to grow new blood vessels under a scab or at an injury site, to promote local healing.
Otherwise, however, our body has a system of checks and balances that keep us from growing new blood vessels in the wrong places. But in cancer and in a number of other diseases, something has gone awry, overriding those checks and balances, and allowing extra blood vessels to grow, feeding unhealthy tissues, including tumors.
The relationship between angiogenesis and cancer was first discovered by Dr. Judah Folkman, who in the early 1970s demonstrated that blocking angiogenesis could keep microscopic early cancers dormant. I had the opportunity to hear Dr. Folkman speak many years ago – he was a scientist and a humanitarian. In 1997, an Italian physician, Adriana Albini, coined the term angioprevention to further describe the process Folkman discovered. She demonstrated that the "tumor microenvironment" can be crucial in determining whether cancer does – or does not  – grow.
Why Is This Important to You?
More than 1-in-3 people will have cancer in their lifetime. Actually, microscopic cancers are developing in our bodies all the time, but our body has marvelous systems for defeating unhealthy cells.
Whether cancer will grow is partly determined by whether angiogenesis is kept in check – or not. In the past decade, anti-angiogenic drugs have been helpful in increasing the cure of some cancers. However, they are expensive, not without side effects, and as stated earlier, treatment is never as simple or certain as prevention.
So yup, I'd say it's important to all of us.
Eat to Thrive!
Epidemiologic studies, the type of scientific study that looks at factors that influence health amongst large numbers of actual people in various populations, have shown that eating certain foods regularly can undoubtedly reduce the risk of developing cancer in many people.
Once again, nature shows her clever design! Numerous molecules in a wide array of common foods help prevent abnormal blood vessel growth, helping us to potentially prevent cancer growth! Foods can be angiopreventive! 
Did you know that like a tumor, fat also grows on blood vessels? Obesity is a leading and absolutely preventable cause of disease around the world. Eating the right foods can help prevent obesity and its many related diseases.
The simplest way to decide which foods to eat? Eat a rainbow! The foods richest in cancer preventing compounds tend to come in beautifully colored packages and sumptuous tastes – naturally.
Here are my top 25 favorites:
Apples           
Blueberries
Red Raspberries
Oranges
Grapefruits
Strawberries 
Lemons
Tomatoes
Carrots
Broccoli
Brussels sprouts      
Kale
Collard greens
Onions          
Artichokes
Garlic
Olives (and olive oil)           
Shiitake mushrooms
Lentils                
Almonds
Walnuts        
Yogurt           
Dark chocolate         
Green tea      
Coffee
Yup, dark chocolate makes the list!  This is a mouth-watering shopping list, n'est pas? No restricting here! Doesn't life just keep getting better?
Spice it Up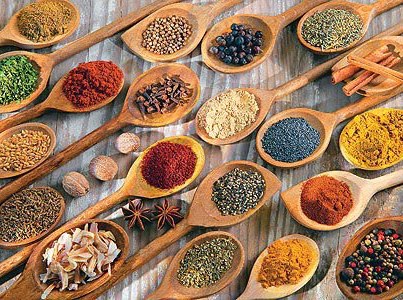 Herbs and spices have been prized for their health promoting benefits since long before Marco Polo ventured out along the Spice Route. Herbs and spices figured in the prevention and treatment of major human epidemics, for example the Plague (garlic) and malaria (quinine from the bark of the Cinchona tree). Sadly, the seasonings most people use are just salt and pepper.
Herbs and spices with known cancer preventing activity include basil, garlic, cinnamon, turmeric, ginger, parsley, rosemary, thyme, black pepper and cilantro. Eat them daily, fresh, dried, in salad dressings, in soups, even in smoothies and green juice! Ooh la la! So tasty!!!
Additionally, a number of medicinal herbs, including those in a class called "adaptogens," for example, ginseng, licorice, and medicinal mushrooms such as reishi and maitake, have been found to have definite cancer prevention properties. They also improve energy and immunity, and help with blood sugar control.
And let's not forget that herbs grow in the sea! Sea vegetables including kelp, wakame, and dulse can add to our nutrition and help keep us healthy (avoid those grown in high mercury waters such as off the coast of Japan). They can be eaten as condiments, or my favorite way – in miso soup. And check it out — miso is also angiopreventive!
Now We're Cookin'
Ok, ladies, given the above lists, with the addition of small amounts of dark meat chicken and turkey, a number of varieties of fish including salmon, shrimp, flounder, sole, and others, we could create delicious meals without end! And this is just the top 25 list! Think of all the different ways we can combine these foods and spices in salads, soups, and an endless array of deliciousness! And yes, red wine is also on the healthy foods list, in moderation which means no more than a glass a day for women (less if you have a history of or high risk for breast cancer).
Food is about life, celebration, pleasure, and enjoyment – all important factors on our path to radiant, optimal health.
The Bottom Line?
Food is our best medicine, and prevention is always better than cure. A plant-based diet rich in a colorful variety of vegetables, fruits, herbs, and spices, with good quality protein from legumes, fish, and small amounts of meat is our best health option and a delicious way to eat – and stay slim, energetic, and fit along the way! Health is also a great gift we can give to our families and friends – so eat well, and whenever possible, share meals with others!
How would you eat if you knew that food could prevent cancer, diabetes, and Alzheimer's disease?
How might you change your diet based on this article?
Do you have favorite cookbooks for healthful eating?
Please share your stories and favorite foodie resources in the comments below!
To your vibrant health!