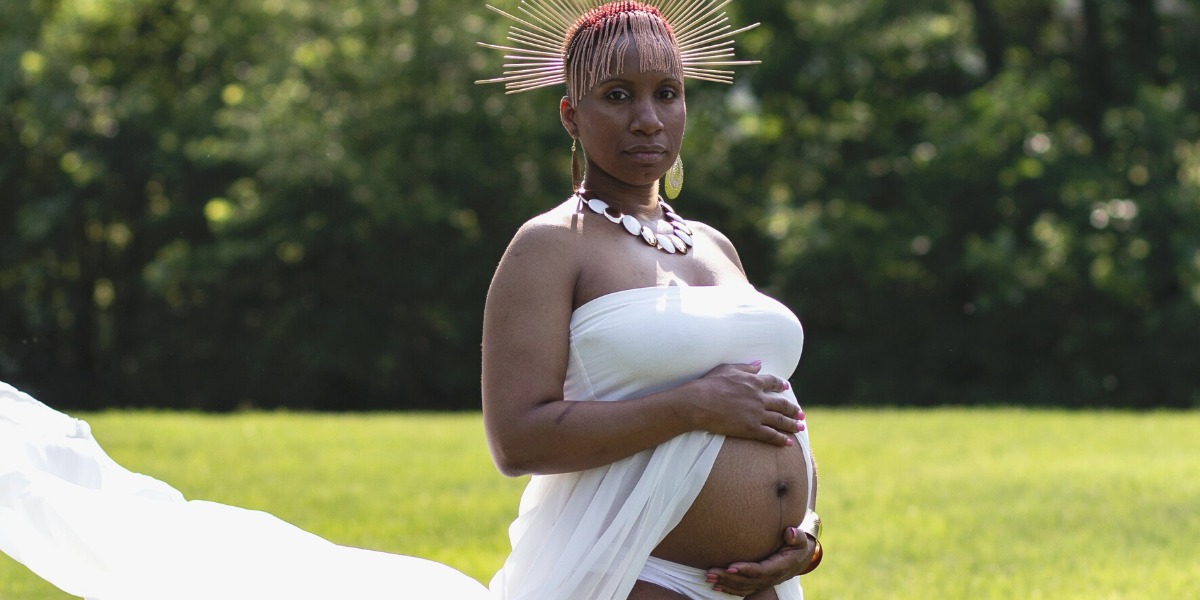 Black mothers lives matter. Behind the profiling and police brutality that should never have been ignored, and can no longer be ignored, lies a more covert racism, happening daily behind the closed doors of hospital rooms across America. It's the black maternal (and infant) mortality rate and the rampant mistreatment of black pregnant and birthing women. The stark reality is that a black women is 4-5x more likely to die in childbirth than a white women; in NYC that risk may be up to 12x.
My guest today is a woman who has dedicated her life to doing something about it: Shafia Monroe. The first midwife I ever met – when I was just 15 years old – Shafa remains a role model to me 39 years later, for her activism and lifelong commitment to transforming black birthing culture and all birthing culture into one that is safe and centered on the needs and well-being of black mothers, by teaching pregnant women, and birth workers alike.
The Other Queen Mother
While Queen Mother might conjure up images of none other than Queen Bey herself, Shafia is the original Black Queen Mother, having been actually, and appropriately, called the "Queen Mother of the Midwife Movement" for her pioneer midwifery work. She's been "Birthing CHANGE" all her life. She is a renowned and beloved midwife, doula trainer, motivational speaker, and cultural competency trainer.
Join me as Shafia dives deep into the roots of African birthing and new mama care traditions, the impact of racism on birth in the United States today, and how black women especially, but all women, can claim the power that runs deep in us, connected to tradition and our ancestors, to have better pregnancy, birth, and mothering experiences.
This personal and powerful interview occurred as an Instagram live, and was so popular, that I realize it is not to be missed by Natural MD Radio listeners. So if the sound isn't the usual quality on my end, apologies – but Shafia comes thru strong and clear!
A bit more about this incredible pillar of the midwifery movement:
Midwifery Journey
From 1978-1991 in her hometown of Boston, she served as the primary African American homebirth midwife. Then in 1991, seven months pregnant with her sixth child, Shafia relocated with her family to Portland, Oregon. Unable to find an African American midwife for her homebirth, she responded by forming the non-profit International Center for Traditional Childbearing (ICTC), to increase the number of midwives and doulas of color to empower families, reduce infant and maternal mortality, and bring Black midwives together. Erykah Badu, a four-time GRAMMY™ Award winner, singer/songwriter, and holistic healer, is the ICTC National Spokesperson.
Activist Roots
Shafia's activist roots run deep. Inspired by activist parents, she grew up watching her mother advocate for quality public education, voter registration, and fair housing and her father create community gardens in vacant lots of Boston and caring for the family land in Alabama.
Shafia's parents taught her the importance of standing for justice, so at 17 years old, when she learned that the Black infant mortality rate was two and a half times higher than the white infant mortality rate, she was appalled and knew something had to be done to reduce the disproportionate rate of Black babies dying before their first birthday. So Shafia began training as a homebirth midwife, educating members of the Black community on having home births to improve their birth outcomes. She also opened a midwifery school in Boston to increase the number of community midwives.
Current Birth Work
Shafia now runs the SMC Full Circle Doula Birth Companion Training. Her groundbreaking doula-training program continues to serve as an international model for reducing infant mortality, increasing the number of doulas of color, empowering families for informed consent and physiological birth, and teaching traditional birth and postpartum practices using the legacy of the 20th century African American midwife.
Shafia also spearheaded the Oregon Coalition to Improve Birth Outcomes (OCIBO) to promote the use of doulas to improve birth outcomes in vulnerable populations. Her work marked Oregon as the first state in the nation to approve Medicaid reimbursement for doulas and ICTC as the first Oregon Health Authority (OHA) approved doula-credentialing organization. SMC Full Circle Doula Birth Companion Training became Oregon Health Authority Approved in 2018.
Education and Personal Life
Shafia holds a BA in sociology, a Master of Public Health, and is a member of multiple coalitions to improve maternity care. She has been recognized with numerous awards, including a Lifetime Achievement Award from Midwives Alliance of North America and the Dr. Hildrus A. Poindexter Award of the Black Caucus of Health Workers of the American Public Health Association.
Monroe spends her free time with her husband, seven children, and ten grandchildren. She enjoys cooking for family and friends, walking, dancing, gardening, writing, fishing, and horseback riding. Monroe lives in Portland, Oregon.
Have a listen, and make sure to post 'the love' in the comments on Itunes – and SHARE this episode with a friend!
Links and Resources