I purchased a bunch of fresh mustard greens and a small basket of shitake mushrooms from the farmer's market today. It's late autumn and both are in abundance. I prepared the following absolutely delicious dish in about 8 minutes including washing the greens and mushrooms.
Ingredients

1 bunch of fresh mustard greens chopped (not too small)
3 cups of shitake mushrooms sliced in half or quarters depending on their size
4 cloves of fresh garlic, chopped
Olive oil
Tamari or sea salt
Rice wine vinegar
To Prepare
Saute shitake mushrooms in a couple of tablespoons of olive oil for 2 minutes, stirring often.
Add the chopped fresh mustard greens and chopped garlic.
Saute for about 5 minutes.
Add a light drizzle of tamari (or a few pinches of salt if you don't use soy) and a very light splash of rice wine or other light vinegar.
Serve hot.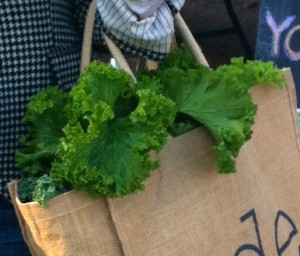 DELICIOUS and SO HEALTHY! Serves 4 easily, or 2 if you're greedy for greens like I am!
Enjoy!!!!
In joy,