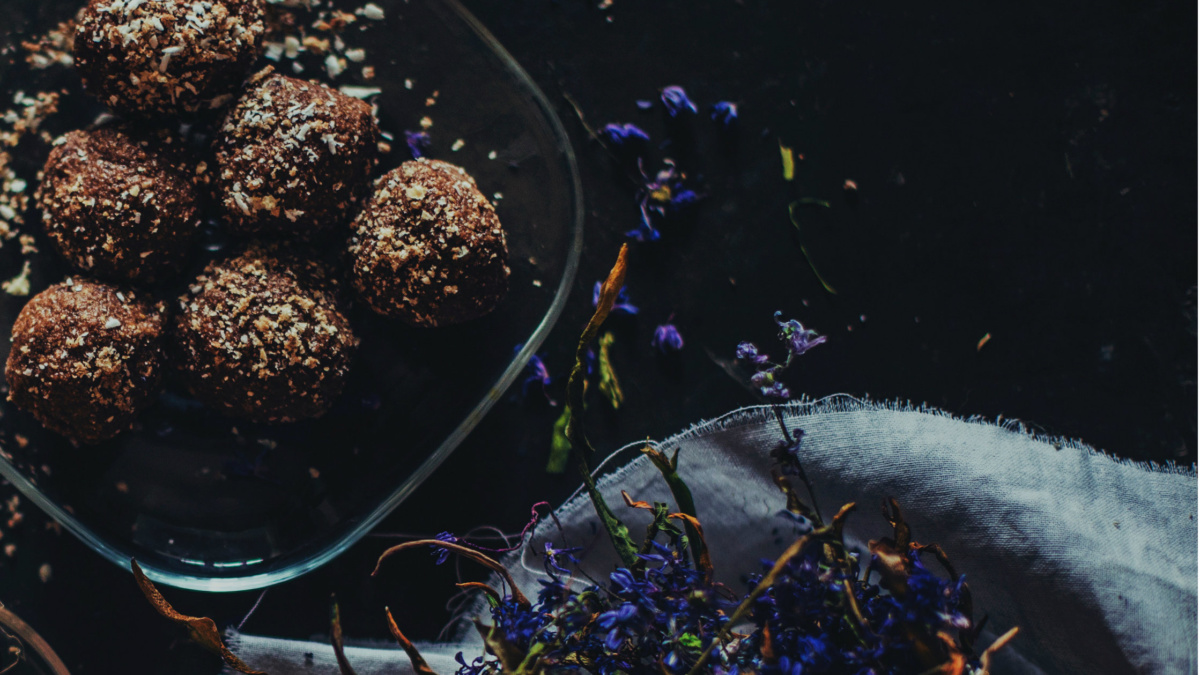 Delicious energy balls might already be a staple in your fridge, but did you know that with a few simple tweaks, you can turn a favorite snack into a healthy, hormone-balancing treat with the addition of medicinal herbs?
Let me introduce you to one of my go-to recipes: Women's Bliss Bites. These are enhanced with Maca, an adaptogenic herb that has been used traditionally in the Peruvian mountains, and is now used by many herbalists around the world, to promote mental acuity, physical vitality, endurance, and stamina. Maca can help to reduce anxiety and depression and is rich in essential amino acids, iodine, iron, and magnesium, as well as health-promoting plant sterols that may possess a wide range of activities that support adrenal and hormone function. It has been used to support fertility, and reduce menstrual and menopausal symptoms as well. Bonus: it's known to boost libido, too!
In addition, you're blending in highly Omega-3 rich walnuts, with a rich plant nutrient boost from cacao for powerful anti-inflammatory and mood-boosting impact. Cardamom is a flavorful aromatic herb that promotes healthy digestion and metabolism, while cinnamon has been shown to reduce insulin resistance common in women with PCOS and metabolic syndrome. The right herbal blends upgrade your usual energy bites into powerhouse bites that nourish and boost health at the same time.
Here's my recipe for Hormone-Balancing Bliss Bites.
Ingredients
1 1/2

cup

walnuts

1/2

cup

dates, pitted

– Up 1 cup if they're not sweet enough for your taste

4

tbsp

almond butter

– 3 tbsp if you use the larger amount of dates; sub in tahini if you don't eat nuts

1/4

cup

dark cacao powder

– dark unsweetened + 1 tbsp for dusting

1/4

cup

shredded coconut

– the finely ground kind

2 – 4

tbsp

maca powder

1/4

tsp

cardamom powder

1/4

tsp

cinnamon powder

Optional: orange zest
Instructions
Put the walnuts into your food processor and grind until they are close to finely ground

Add in the dates and grind to form a thicker blend

Add in the almond butter and mix until a dough forms. Sometimes you might have to add a little extra to get the dough to form nicely

Add in the 1/4 cup of cacao powder, your maca, cardamom, and cinnamon until well mixed

Remove your blade from your food processor, then form round balls using about 1 tbsp of "dough" per ball.

Roll these in your hands, then roll in the extra cacao powder, coconut flakes and optionally, the orange zest

Place on a platter or into a glass storage container for later enjoyment.
Notes
These can be eaten straight away or kept in the fridge and enjoyed over the next 3-4 days. They can be taken anywhere in a small storage container.
They are safe to enjoy while trying to conceive (and may even help in that department!) and while breastfeeding; during pregnancy you can enjoy them but sans the maca.
Makes 16.
Serving size: 2-4 Bliss Bites per day