Join me for the next 10 minutes in this safe, sacred space I am creating for us to start a conversation. About sexual health. If you would like to. I hope you will. Because sexual health is deeply important to our whole selves as women.
Go ahead and grab something to write on and a pen for a short exercise.
Sexual health is not just about "having sex." It's about your body. Your sensuality. Your confidence. Pleasure. It's about relationship. Safety. Your vagina, and uterus and breasts. [YES, I said it: V-A-G-I-N-A.] It's also about creativity and the divine feminine. It's about dancing your dance as a woman, as ecstatically as you can and want to.
As a midwife and physician specializing in women's health, talking about sexual health is a big part of what I do to help women feel and get healthy. I love helping women find, honor, rekindle their sexual mojo. Their empowered embodiment of creative, fertile self – at any age. We all need a girlfriend gynecologist we can talk to! TADA! Genie in a bottle, at your service!
Here's the thing. When it comes to sexual health so many of us are in the dark because:
Doctors are too uncomfortable talking about sexual matters with their patients. One recent survey estimated that only 14% of Americans aged 40 to 80 years reported that a physician had inquired about sexual concerns within the past 3 years! Words like discharge, orgasm, and pleasure just freak people out. So they avoid them. Then those questions go unanswered.
Women are usually too uncomfortable talking about their sexual health with their docs – even their gynecologist! So the conversation doesn't happen. Questions go unasked, symptoms go unchecked. And women worry in silence about whether they are "normal."
Most of us have misconceptions and misinformation about what's normal about our bodies and about sex. These often start when we're young due to inaccurate or misunderstood information from our moms, friends, and teachers. Then we grow up exposed to unrealistic ideas about sex and our bodies through movies, TV, and magazines. Some women carry inaccurate ideas with us throughout their lives.
Most women have questions, concerns, and maybe something we're curious about, but don't know how to ask or where to find trustworthy answers.
TRUE STORY: In 6th grade my friend Carol took a mandatory school-based sex ed class where she learned that you stop getting your period when you are pregnant. Though she was a virgin, when all the girls around her age started getting their periods and she didn't, she was terrified that she was pregnant. She carried this worry until she started menstruating 2 years later!

TRUE STORY: One of my teenaged daughters once asked me if giving a guy oral sex prevented cavities in the girl. Seriously!  Now which gender made THAT up? But she really didn't know. Thankfully she could ask and I could tell her it CAUSED cavities!  (Kidding, I didn't tell her that. But I did tell her guys made that up and it doesn't protect against tooth decay!) Did you know the most teenagers think that oral sex is not having sex and has no risks?

TRUE STORY: I once taught a weekend intensive on women's health to 30 women aged 30-60 years old. None of them knew what their vulva is. (Do you know?)

TRUE STORY: A pregnant woman once called me with vaginal bleeding. She was about 5 months along and inserted a jelly jar into her vagina to make sure she'd be able to stretch open at the time of birth. She didn't know that hormones kick in at the end of pregnancy to facilitate this, but they are not kicked in until then.

TRUE STORY: A lovely woman in her mid-50s contacted me by phone from another state. She had been so afraid to get a pap smear because of a prior bad experience at a gynecology appointment, that she hadn't had one in 20 years. By the time she contacted me she'd had serious vaginal discharge for over a year. She was scared and embarrassed. I convinced her to see a woman nurse practitioner in her city for a pap, during which she bled heavily because her cervix was so damaged from advanced cervical cancer that had gone unnecessarily undetected.
I want you to be well informed, healthy, happy, and empowered. I want you to feel free to be honest with your Sexual Self about she's doing. And I want you to know that you have the right and deserve to be treated kindly and gently by your doctor and by any sexual partners.
And I want to hear from you and help you embrace your most joyous, vital, creative, healthy self.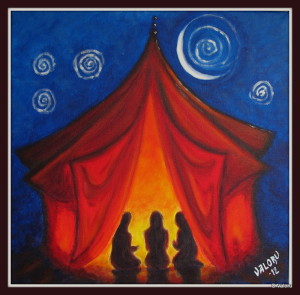 Let's begin with a Safe Space Body Awareness meditation:
Close your eyes.
Imagine that there is a soft, pink, warm bubble around us, the size of a comfortable room. In this space you are warm and protected. Everything that is said here is confidential and sacred.
Now, take a few deeps breaths. Make your mind and your belly soft. Breathe deeply and slowly, inhaling to the count of 4, imagining your breath bringing a warm, glowing, pink light all the way down into your sacred woman parts. Imagine this soft light bathing your pelvis, all the way down to your pelvic floor. Feel warmth spreading through your lower abdomen. Notice any areas where you feel tight, tense, blocked and use this light to massage them free. Then exhale to the count of 6, letting go of all the tension in your body. Quiet your mind and focus only on the rhythm of your breath and the feeling of your breath moving deeply through your body. Repeat this 8 times. There. Now open your eyes.
Go ahead and grab your pen and notebook. Take another deep breath.
Quickly jot down 2 questions that your Inner Goddess has been nagging at you about your sexual health that you need to address…And begin to reflect on how you're going to do that!
Questions and comments are most welcome. Drop 'em below. They will be screened before they are posted to keep this site comfortable for readers. Please respect this site as a sacred space for women and please don't take it personally if your question doesn't appear. I will not be answering personal medical questions.