This week's episode is the first of an exciting new feature that I'm going to be doing on Natural MD Radio called the Natural Medicines Library. I'll be bringing you monthly episodes of Natural MD Radio specifically about my favorite herbal medicines.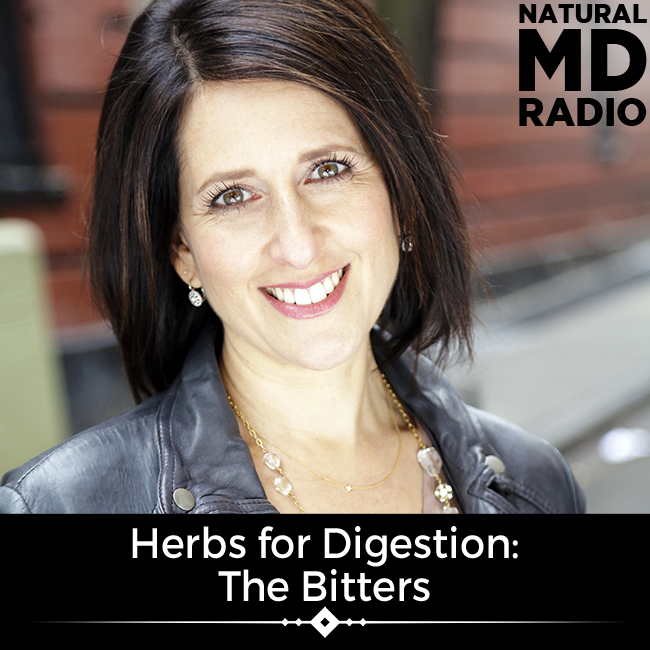 I've been an herbalist for 35 years, and am actually one of the leading herbalists in the world in the field of western herbal medicine for women and children's health. I've written am award winning textbook called Botanical Medicines for Women's Health, am the medical director for American Herbal Pharmacopoeia, and for a decade I was the president of the American Herbalists Guild, in addition to sitting on several scientific advisory boards. Herbs have been and remain one of my first go to's therapeutically for my practice, in my teaching, and of course, for myself and my family.
The botanicals I'm talking about today are the bitters – a specific class of herbs for the digestive system, but they do much more than just improve digestion. They also support detoxification, heal the skin, and improve your mood. We don't eat a lot of bitter food these days, and most of us are pretty averse to bitter flavors. But they can do so much for your body and your digestion. Today I'm talking about all the benefits of bitters and how to get more of them into your diet, and how to use them medicinally.
You can Subscribe to the Podcast on iTunes or Soundcloud
"I use herbal medicine as an extension of food." – Aviva Romm
Show Notes:
Why botanical medicines should be our first medicine
The complexities of herbal medicines
The power of bitters for digestion
Why we love coffee
How our ancestors obtained the bitter principle in their diets
Why the bitter taste warrants a strong reaction
Why we should bring the bitter principle back into our diets
"We have  co-evolved with the plant world since our time on earth." – Aviva Romm
How bitter principles work
Why you should try to add bitters to your diet
The two ways to get more bitters in your diet
How sour flavors help cut the bitter
How to use herbal bitters
My favorite way to use bitter herbs
When to be careful with bitters
Links Mentioned:
"I recommend getting at least one, ideally two portions of leafy greens every day." – Aviva Romm