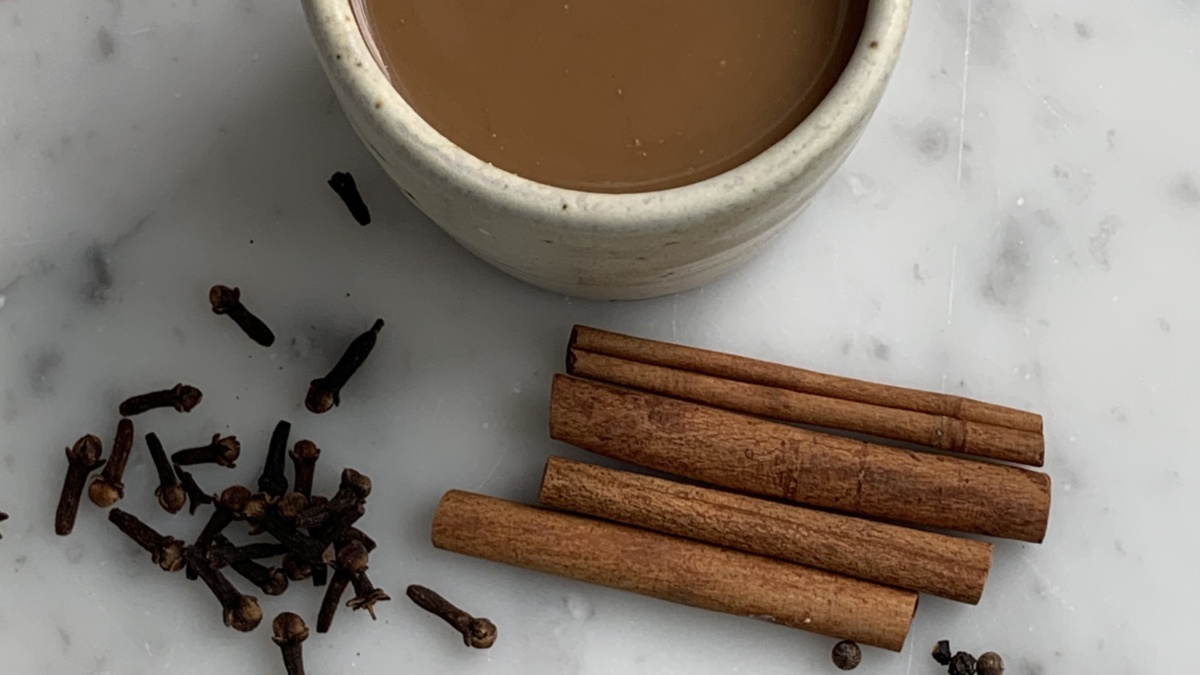 Chai simply means tea, and it is, indeed, simple to prepare. I learned how to make chai tea from a Kundalini yoga teacher back in 1980 and it's been one of my favorite beverages ever since. You can make it with the black tea for a little-pick-up; or make it sans caffeine. The traditional version does have a bit of caffeine. The herbs – ginger, cardamom, pepper, cloves, and cinnamon – are fabulous for digestion, and are also great for boosting metabolism.
Traditionally, it's also made with milk and honey, which are considered soothing to the mood and mind, and also take the 'edge' off of the spices, creating a smooth, mellow taste. I've started making cashew milk which gives the tea a whole new flavor, and can be made unsweetened, with honey, or if you want it a little sweet but are vegan, you can use maple syrup or date sugar.
To make the cashew milk, you don't have to soak the cashews, but it is richer and more digestible if you soak the nuts for 4 to 8 hours ahead of time. I like to soak mine overnight and prepare it for a morning cup of tea. If you're a coffee drinker, you can make a "dirty chai," which is 30 to 50 percent coffee, and the rest Chai and the milk of your choice. And if you're trying to kick the coffee habit, going from full coffee to dirty chai to chai is a great transition. You can also substitute green tea bags for the black for an even lower caffeine content and the healthy, cellular detoxing and anti-inflammatory plant polyphenols delivered by green tea.
Below I teach you how to make chai and also cashew milk – for a chai latte!
Of course, you can always cheat on the chai prep and use a tea bag or a pre-made blend like Rishi chai which you can buy in bulk from Amazon (which gives you the best price!).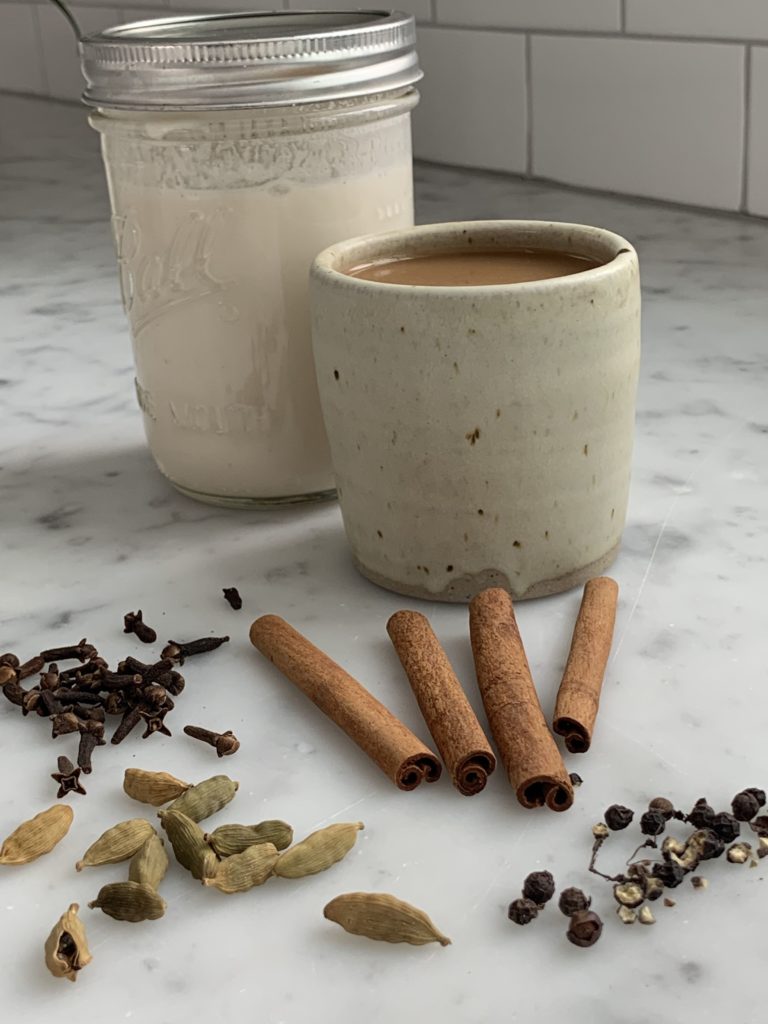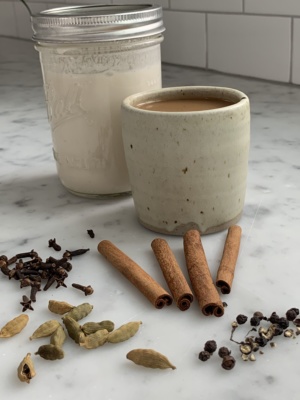 Ingredients
Chai ingredients:
1/2

tsp

cardamom seeds

either purchase out of the pods, or remove from pods yourself

4

whole cloves

2

whole black peppercorns

1/4

tsp

ground ginger or 1/2 tsp. fresh grated ginger

1

cinnamon stick

3 inches

2 1/4

cups

boiling water

2

black tea bags or 1 tsp. high quality black tea
Cashew milk ingredients:
1/2

cup

of organic cashews

1.5

cups

of cold water

1

tsp

organic vanilla extract

Optional: 1 tbsp honey

maple syrup, or 2 pitted medjool dates
Instructions
To prepare the Chai:
Bring the water to boil in a small saucepan, and turn off the heat.

While the water is coming to a boil, place the cardamom pods, cloves and peppercorns in a mortar and crush to release the aromatic scents. If you don't have a mortar and pestle, you can use a spice grinder, pulsing the spices just a couple of times, or you can use a sturdy ceramic bowl and crush the spices with the back of a metal spoon.

Add the ginger, cinnamon stick and tea bags to the hot water.

Cover and steep for 5-8 minutes.

Meanwhile, in a small saucepan, heat the milk.

Strain tea, discarding spices and tea bags.

Pour into your favorite teacup leaving room for your cashew milk.
To prepare the cashew milk:
Soak cashews overnight, or for at least 4 hours.

Rinse and strain, and place into a blender.

Add 1.5 cups cold water.

Blend on high speed for about 2 minutes; if using the dates for sweetener, add at the start of blending.

Pour into a 2 cup glass jar – you can strain this but it doesn't require it.

Add 1 tsp. organic vanilla extract.

Shake and add the desired amount to your Chai.

Store the remainder in the fridge – shake before each use.

Keeps for about 5 days.
Notes
Makes 2 cups chai.
Makes 2 cups of cashew milk.