Welcome to the Adrenal Thyroid Revolution Resources
On this page you will find complementary tools to support you on your journey as you use my new book, The Adrenal Thyroid Revolution to find and reverse your Root Cause Triggers and enjoy your life the way you were meant to.
Updated Week 1 Meal Plan for the Adrenal Thyroid Revolution
Thank you for your understanding of the publisher's error in my Week 1 Meal Plan – click here for the plan that accurately corresponds with the Week 1 instructions.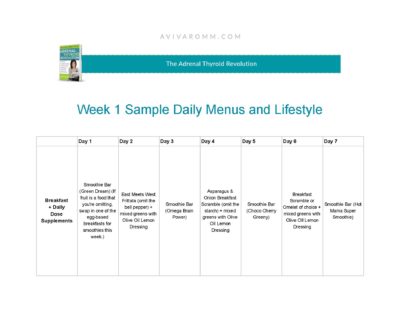 Click on the small box below each image to open a downloadable version of the resource.
Errata: Please note that in the original Rx:SOS Immunity, the dose for Zinc was written as 300 mg. This was a typographical error; the correct dose is 30 mg as was correctly printed in my book, The Adrenal Thyroid Revolution, and has been corrected. As with all content on my website and in my book, it is provided for educational purposes only, and not meant as a prescription or as a substitute for your care provider's medical advice.