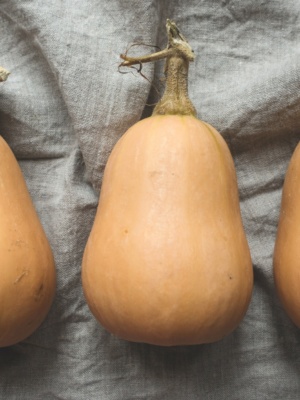 Butternut squash is a nutrient rich vegetable loaded with vitamin A, folate, vitamin E, magnesium, calcium, and potassium and has no cholesterol. Olive oil is the heart healthiest oil. And the rest is simple…
1

butternut squash

peeled, seeds removed and cut into 1-inch chunks

2

yellow onions

chopped

2

TBS

olive oil

5

cups

of water

or low sodium vegetable broth

1/2

cup

of white wine

Sea salt or Herbamare seasoning to taste

Dried or fresh dill weed or fresh rosemary

the latter is my favorite
Lightly heat your olive oil in a soup pot. Sauté your onions until slightly soft.

Add squash chunks and sauté for 3 minutes. Add the wine and cook for another 3 minutes.

Add the water and cover your pot.

Cook for about 40 minutes or until the squash is very soft, stirring about every 15 minutes.

When cooking is complete, use a whisk or vegetable masher to "mash" the squash until you have a thick soup with some small chunks of squash. Alternatively, you can blend the soup.

Add salt, lightly to taste.

Serve hot, garnished with dill.
Variations
Squash-Rice Soup: Use 6 cups of water and add ¼ cup of basmati rice just after adding the water; adds a nice texture to the soup.
Squash-Dulse Soup: Top the soup with crumbled dulse flakes instead of dill for an oceany flavor.
Squash-Rosemary Soup: Add a stalk of fresh rosemary when cooking instead of the dill garnish. Gives a rich flavor.