When I was training to be an OB/GYN, I was taught that the doctor-patient relationship was supposed to have certain boundaries. To be a good doctor, I was expected to be:
Perfectly poised on an ivory "doctor" pedestal
Always in control
Immune to my emotions
Always professional
Able to single-handedly fix anything that comes my way
No wonder I wound up disappointing my patients and winding up sick and depleted by the time I was 33!
After a lot of personal and professional self-examination, I wound up writing a new type of doctor-patient agreement that I asked my patients to sign. Here it is.
A Sacred Doctor- Patient Agreement
As doctor and patient, you and I are entering into a partnership. I am here to support you, guide you, offer you tools, and support your process, but I will not "fix" you – for I don't believe you are broken. Instead, I will consult, educate, and participate in any diagnostic or treatment planning with you, while supporting the natural self-repair mechanisms of your body, which have been scientifically proven to exist. I will be supporting not just the health of your body, but the health of your mind. If you are not ready, willing, or able to fully participate in your physical, emotional, and spiritual healing process, I will be here to nurture and support you without judgment, but we both acknowledge that your health outcome may not be fully optimized. I can only support you as much as you support yourself.
Mutual Respect
Although I spent many years training to earn the right to be your doctor, I am not "better" than you, and as such, I will treat you as a cherished equal. Although I may know anatomy better than some of my patients, I trust that you know your body better than I do. Your body is YOUR business, and I am merely here to support what is essentially your responsibility.
In order for our partnership to be successful, we must respect each other. You will not put me on a pedestal, and I will never look down upon you.  I will speak to you when we are both dressed and only leave you undressed in the brief moments when I need to examine you. I will respect your privacy, honor your modesty, and invite you to put your clothes back on as soon as I've done what I need to do.
I accept that my time is not more valuable than yours. As doctor and patient, we will respect each other's time. Barring extreme emergencies, I will not make you wait for your appointment, and you will not be late. We must be present, fully and completely, during our time together. This means we will make our best efforts to remove distractions and focus all of our energy on your health and healing.
I Trust Your Intuition
I will call upon my knowledge, experience, and resources to offer you recommendations for preventative care, diagnostic workups, and treatment plans, but I will also invite you to listen to the intuition of your healing inner wisdom, your body, and your soul. I will explain why I make the recommendations I do, but I will always respect your autonomy, without judgment.
If you choose not to follow my advice, I will respect that and we will negotiate another plan that resonates with your intuition, but I expect you to explain to me that you do not plan to comply with my treatment recommendations.  If I am unable to provide the care you need or desire, I will release you to follow your heart or find another provider without taking it personally.  Conversely, you will understand if our current medical-legal climate makes me ask you to sign a waiver sometimes, especially if you refuse treatment for something potentially life-threatening, and you won't take it personally. Ultimately, your autonomy trumps my personal treatment preferences.
However, if we both agree to a treatment plan, I ask that you comply with that plan or explain to me why you can't. If you have financial constraints, please tell me so that we can modify our plan. If you are having issues with limiting beliefs, self-sabotaging behaviors, or issues of willpower, I can help support you, but only if I know what you're dealing with. Follow through is key if we expect optimal outcomes.
We Must Be Honest With Each Other
We have to be open and tell the truth, even if it is painful or uncomfortable. I will promise you confidentiality, and you must promise to tell me anything I need to know in order to provide the best medical care possible. We must trust that we are safe together, so we can explore things that may be tough to explore. We must open our hearts to the loving kindness and compassion that is a necessary part of any healing relationship.
We Are Only Human
As my patient, you will understand that I am a mere mortal, prone to mistakes, flaws, insecurities, ego, fatigue, tears, and distractions in my personal life.  I will strive to always be in integrity and to never betray your trust. I will also strive to ensure that you are never a victim of medical negligence. But you must understand that even the best medicine sometimes results in negative outcomes that are nobody's fault, and if I'm always afraid that you might sue me, I may practice defensive medicine, ordering too many tests and recommending too much treatment, which may ultimately end up causing more harm than good.
As doctor and patient, we agree to accept that we're both doing the best we can at any given time, and we won't always get it right. We commit to open communication, mutual respect, a belief in the infinite capacity for whole health and healing, and a dedication to cherishing the process and viewing health issues as an opportunity to seek higher ground.
We acknowledge that, between you and me, anything is possible.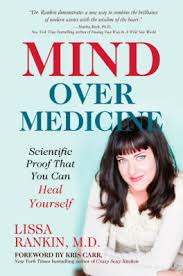 Are you on board? If so, sign here.
Your signature___________________________________________________________
The Body Knows How To Heal Itself
In my new book Mind Over Medicine: Scientific Proof That You Can Heal Yourself , I include a whole chapter on the scientific proof that finding the right doctor is essential to your health outcome. The body has natural self-repair mechanisms that can fix broken proteins, kill cancer cells, fight off infection, heal wounds, and retard aging, but to say you can heal yourself is kind of a misnomer. It would be more accurate to say that your body can heal itself, but only with the nurturing care and support of the right healer. When we feel loved and tended by those who care for us, our nervous systems respond by shutting off the outflow of poisonous stress hormones and bathing every cell in the body with healing hormones like oxytocin, dopamine, endorphins, and nitric oxide. And when this happens, the body's natural self-repair mechanisms are strengthened.
For 8 tips on how to find the perfect health care provider to meet your individual needs, and to learn the 6 Steps To Healing Yourself that will help you participate in your own health care, I hope you'll read Mind Over Medicine (which you can order here). A free chapter of the book is available for download here.
Would You Sign This Doctor-Patient Contract?
How would you feel if your health care provider agreed to such terms? Would you be willing to participate in your health in this way and have this kind of relationship with your doctor? If not, what is at the root of your resistance? Share your thoughts in the comments below.
With faith in your healing journey,
Lissa Rankin, MD