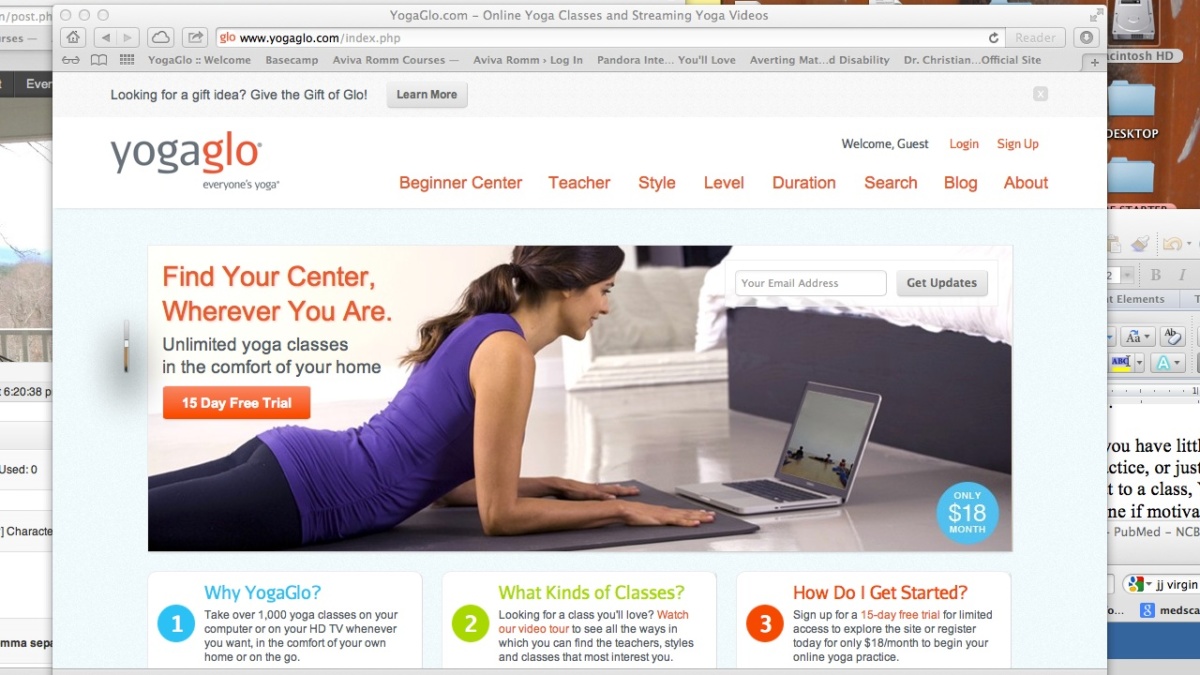 I'm busy. And my work hours are a little odd. And I'm not that motivated to work out at gyms and studios. Putting it all together, I don't get to yoga classes much.
But I am super committed to moving my body and yoga is one of my fave ways. It keeps me long and lean so folks ask me if I am a dancer—which I'm not but might like to be in an alternative universe. And I certainly love being asked if I am one!
So I was stoked when my yoga-teacher daughter told me about YogaGlo.
YogaGlo is genius. It's an on-line yoga center. For $18/month (I own no stock and this is not an ad for them), which is just over the cost of a single yoga class, I can log-in and choose from hundreds of yoga classes to take in the convenience of my own home, on my own time. By selecting a level from basic (very basic if you're a yoga virgin) to advanced (you can find classes that will kick your gluts!), my desired length of class (there are 30, 45, 60, and 90-minute options), yoga style (you name it, it's there) and specific teacher (and they have classes from many of the greats!), I will receive a selection of streaming video options from which to choose. And I can take an unlimited number of classes/month.
It gets even better. I can set up a queue of classes and even plug them into a personalized calendar that will track my efforts if I wish. So I can wake up in the morning, roll out my mat, turn on my computer, and BING! I am right into my class by just clicking on that day in my calendar. I can also receive e-mail reminders that my class is on my calendar. And there is no added fee or loss for using, or not using any of these services.
There are also special classes. For example, I wanted to work specifically on my crow pose (not there yet but will be one of these days!) and there is a 15-minute excellent tutorial on how-to. There are pre-natal classes, post-partum classes, relaxation classes, invigorating classes, classes for folks with specific injuries, morning classes, intensives…you name it. I feel like a kid in an on-line candy store. Except it's good for me!
If you have little kids or crazy work hours, have to travel and want to keep up your practice, or just for whatever reason, have a hard time hauling yourself and your yoga mat to a class, YogaGlo is SOOOO worth the monthly. And you don't even have to do it alone if motivation is a problem. Invite a friend to join you. Check it out. You're worth it.