Too often we go through life waiting for the other shoe to drop, feeling that things never go our way, and that we'll never have enough – or even just what we need. It's hard, scary, and overwhelming to live this way – yet most of us do. It's part of how we're hardwired, and is also a sign of being in adrenal overdrive, or survival mode, a topic I talk a great deal about in my forthcoming book The Adrenal Thyroid Revolution.
In her latest book, The Universe Has Your Back, my personal friend, Gabrielle Bernstein, a New York Times best-selling author also talks about fear – fear of not having enough, not being enough, and fear that you'll never have what you want in life. She teaches you how to transform your fear into faith. Each story and lesson in the book guides you to release the blocks to what you long for most: happiness, security and clear direction. The lessons help you relinquish the need to control so you can relax into a sense of certainty and freedom. You will learn to stop chasing life and truly live.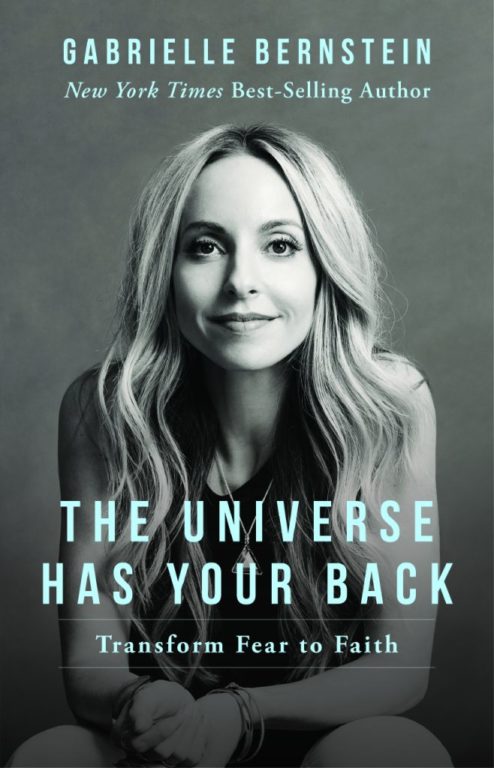 I've also learned quite a lot about this in my own life, and have enjoyed rich talks about this with Gabby, a woman who openly shares her own vulnerability and strengths with a rare generosity. When Gabby told me the title of her new book last year, I immediately did a watercolor of the title and put it on my desk as a personal reminder.
In case you don't know her yet, Gabrielle Bernstein has been named "a new thought leader" by Oprah's Super Soul Sunday. She appears regularly as an expert on The Dr. Oz Show, and was named "a new role model" by the New York Times. Gabrielle is the New York Times best-selling author of the books May Cause Miracles and Miracles Now. Her other titles include Add More ~ing to Your Life and Spirit Junkie.
Gabrielle is featured on the Forbes list of 20 Best Branded Women. The Oprah Winfrey Network chose Gabrielle to be part of the "Super Soul 100" list, a dynamic group of 100 trailblazers whose vision and life's work are bringing a higher level of consciousness to the world. She's been featured in media outlets such as ELLE, OWN, Kathie Lee & Hoda, The Today Show, The Queen Latifah Show, Anderson Live, Access Hollywood, Marie Claire, Health, SELF, Women's Health, Cosmopolitan, New York Times, Glamour, Help Desk, the cover of Experience Life Magazine and more. For more on Gabrielle's work visit GabbyBernstein.com.
Gabrielle says, "My commitment with this book is to wake up as many people as possible to their connection to faith and joy. In that connection, we can be guided to our true purpose: to be love and spread love. These words can no longer be cute buzz phrases that we merely post on social media. Rather, these words must be our mission. The happiness, safety and security we long for lies in our commitment to love."
Q: What inspired you to write The Universe Has Your Back?
Gabby: I'm inspired to write about what I feel my readers need. We're living in divisive times that call us to rely on faith in the midst of uncertainty. Navigating through life without a faithful path can be scary, especially when there's so much turmoil in the world. This book is designed to help readers reclaim their power when they're feeling powerless. Each story and lesson in the book guides readers to release the blocks to what they long for most: happiness, security and clear direction. The lessons help readers relinquish the need to control so they can relax into a sense of certainty and freedom. Readers will learn to stop chasing life and truly live.
Q: How does fear hold us back?
Gabby: Fear creates resistance in our energy. When we are stuck in fear, that resistance blocks us from the natural support of love that is available to us all the time. Throughout the book I refer to this loving support as the energy of the Universe. When we block the energy of the Universe we feel stuck, depressed, sick, weak and alone. When you read the book, the lessons within it will help you release that resistance and surrender your fears so that you can reconnect to the ever-present flow of love and support that is within you.
Q: What was the catalyst for your journey from fear to faith?
Gabby: Throughout my life I've experienced trauma, addiction and depression. But I was never willing to stay stuck in suffering. I knew at a very young age that there was a spiritual solution to all my problems. I've committed my life to seeking those solutions and strengthening my faith in love. My deepest desire is to be free of fear and dwell in joy. Because I've been on my own path of personal growth and spiritual recovery, I can speak to the lessons and healing from a very authentic place. I hope readers will recognize their own stories in mine.
Q: What does faith mean to you?
Gabby: Making the shift from fear to faith gives us a sense of power in a world that all too often makes us feel utterly powerless. When the tragedies of the world seem overwhelming, this book helps guide us back to our power. We need faith now more than ever. When you live with faith you're trusting in the power of your thoughts and energy to support your experiences. In a faithful state you can suspend disbelief and surrender your fear.
Q: What are the lessons you hope readers take away from The Universe Has Your Back?
Gabby: There are many universal lessons throughout the book, but the most important is to choose love. When you learn to lean toward thoughts and feelings of love, then you release all the resistance that blocks the flow of the Universe. The practices in the book will help readers weaken the resistance of fear and strengthen their faith in love. I give clear direction on how to heal fear-based beliefs and transcend limitation and doubt. Most importantly they'll learn to feel supported and certain no matter what.
Q: How is The Universe Has Your Back different from your previous books?
Gabby: This book is different in that it's more philosophical. I push the spiritual envelope even more than I have in the past and I'm unapologetic about my faith. I believe we're living in a time when we must have a spiritual path to survive. That's why I didn't hold back. I shared openly about how I transformed my fear and suffering through my spiritual faith so that readers can feel empowered and inspired to dive into their own practice.
I hope you enjoy getting to meet my friend Gabby. And if you want to transform fear into a happier, more peaceful life, pick up her book today! 
With love,